76-Year old woman charged with premeditated, first-degree murder, after she kills terminally ill husband in his hospital bed
by Diane Lilli | Jan 24, 2023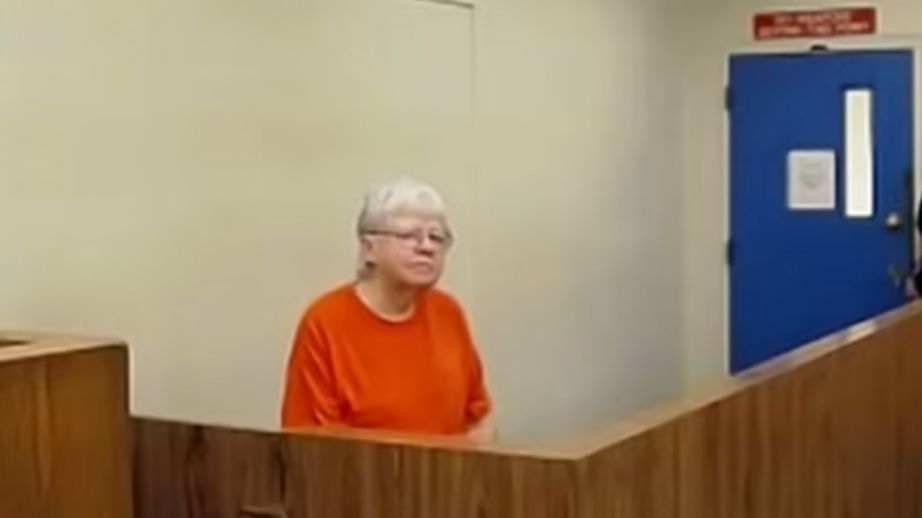 Photo Source: Ellen Gilland, 76, at her first appearance in Volusia County court Sunday, Jan. 22, 2023. (WKMG ClickOrlando)
As lunch trays were being delivered to rooms at 11:45 AM, shots rang out on the 11th floor of the AdventHealth Hospital in Daytona Beach hospital. The fatal shooting then led to the arrest of a very surprising suspect, an elderly Florida woman, who had shot her terminally ill husband, 77, in his hospital bed, killing him.
Police arrested Ellen Gilland, 76, after a lengthy day of negotiating with police. After the fatal shooting, she barricaded herself in her husband's room.
After her arrest, she was taken to Volusia County Jail in Daytona Beach, where she is being held without bond. She is now facing first-degree murder charges.
At her first appearance in court with a public defender on January 22nd, Gilland was charged with premeditated first-degree murder and three counts of aggravated assault with a deadly weapon. Judge Mary G. Jolley said in court that she read the police report and had found probable cause.
When police arrived on the scene at the AdventHealth Daytona Beach hospital, on the floor used for terminal patients, they faced a daunting decision. For the most part, the patients on the 11th floor were terminally ill, many of whom were attached to ventilators and could not be easily moved. However, the police evacuated staff and patients from the floor within about 1/2 hour.
Daytona Beach Police Chief Jakari E. Young said it was a "logistical nightmare."
The woman did not surrender easily. Instead, she spoke with hostage negotiators on the scene from about noon to 3 PM and then was then distracted by a "flash-bang grenade" so the police could take her into custody.
At the press conference, Chief Jones said the wife claims the husband was supposed to shoot himself.
"The goal was for him to do it, but he did not have the strength, so she had to carry it out for him," Chief Young said. "We were able to establish a dialogue with her, we used a distractionary device to get her to put that gun down long enough for us to hit her with less lethal (force) and get her into custody."
The 76-year-old wife told the police that she and her dying husband had made a suicide/death pact weeks prior. She said her husband was "depressed" and did not have the physical strength to shoot himself.
"Apparently, because he was terminally ill, they had a conversation about it, and they actually planned this approximately about three weeks ago, if he continued to take a turn for the worse," said Police Chief Young. "He wanted her to end this."
The Police Chief added that the wife claims that although the long-time married couple had made a pact to both die, she could not kill herself after shooting her sick husband.
"Initially, I think the plan was a murder-suicide," Chief Police Young said. "So she killed him, and she was going to turn the gun on herself, but she couldn't go through with it."
Authorities are trying to discover how the woman brought a gun into the hospital.
Euthanasia, the painless killing of a patient suffering from a terminal and painful disease or in an irreversible coma, is not legal in all 50 states.
However, assisted suicide is legal in 10 US jurisdictions, including Washington, D.C., and the states of California, Colorado, Oregon, Vermont, New Mexico, Maine, New Jersey, Hawaii, and Washington.
In Florida, the sentence for conviction of the charge of premeditated first-degree murder is life in prison.