Architecture Groups to Biden: When it comes to Trump's New Directive, Beauty is Not in the Eyes of the Beholder.
by Diane Lilli | Dec 30, 2020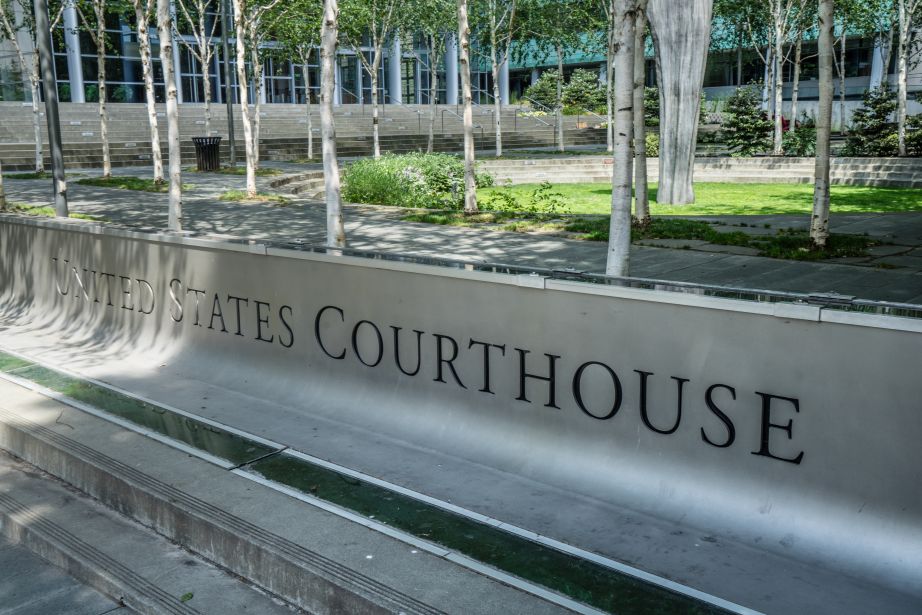 Photo Source: United States Courthouse sign in Seattle, Washington. PWP Landscape Architecture. (Shutterstock Image)
The American Society of Landscape Architects (ASLA) has reached out to President-elect Biden and the world with an urgent plea to retract the new Trump Administration Executive Order on Federal Buildings. President Trump wants to "Make Federal Buildings Beautiful Again" and has issued a directive to allow no new designs other than the Federal Style in Washington DC.
The Federal, or Adam, Style was the preferred architectural design between 1780 - 1840 and evolved closely from Georgian architecture. The Colonial period was dominated by this style, with both federal buildings and residences in Washington DC and along the Eastern Coast of the US embracing its features.
Overall, the understated style is simple, usually including a footprint of a square or rectangular box, with some unique federal buildings boasting curved or polygonal floor plans and detailed molding.
ASLA CEO Torey Carter-Conneen released the missive on December 21 in a strongly worded reaction to Trump's Executive Order on Promoting Beautiful Federal Civic Architecture. His message includes a plea for "equality, diversity and inclusion" in the design and construction of all Federal buildings.
Carter-Conneen's statement reflects the cultural times in 1780 - 1840 when no women or persons of color were allowed to be architects. The Federal Style was popular before the Civil War abolished slavery in 1865, and before a women's right to vote was enacted into law via the 19th Amendment in 1920.
"Civic spaces, whether they be federal buildings, parks, or national monuments, should reflect the values of equality, diversity, and inclusion to which we as a nation aspire. Designers of these spaces should not be mandated by federal law to follow any specific style," said Carter-Conneen. "The American Society of Landscape Architects (ALSA) opposes the Executive Order signed by President Trump that prefers classical architecture and we urge the incoming administration to rescind this order upon assuming office."
The American Institute of Architects (AIA) condemned the order as it "attempts to promote "classical" and "traditional" architecture above other design styles. The order also incorrectly vilifies the General Service Administration's (GSA) Design Excellence Program." More than 11,000 AIA members sent letters to the White House protesting and condemning the new Washington, DC Federal architecture mandate.
"Communities should have the right and responsibility to decide for themselves what architectural design best fits their needs, and we look forward to working with President-Elect Biden to ensure that," said EVP/Chief Executive Officer Robert Ivy, FAIA. "Though we are appalled with the administration's decision to move forward with the design mandate, we are happy the order isn't as far-reaching as previously thought."
Trump's new presidential directive considers more contemporary Federal DC architecture "a discordant mixture of classical and modernist designs." The new directive would impact all new Federal buildings and any buildings with expected design and build costs of over $50 million in the capital.
Trump's new directive states, "New Federal building designs should, like America's beloved landmark buildings, uplift and beautify public spaces, inspire the human spirit, ennoble the United States, command respect from the general public, and, as appropriate, respect the architectural heritage of a region. Care must be taken… to ensure that all Federal building designs command respect of the general public for their beauty and visual embodiment of America's ideals."
The broad Trump directive instructs architects to define elusive terms such as "respect," "dignity," "vigor," and "America's system of self-governance."
With a new president and administration arriving January 20, 2021, the definition of those elusive terms are once again expected to be reviewed, and most likely, changed.