At Least Two Residents Still Missing After Iowa Apartment Collapse
by Nadia El-Yaouti | Jun 02, 2023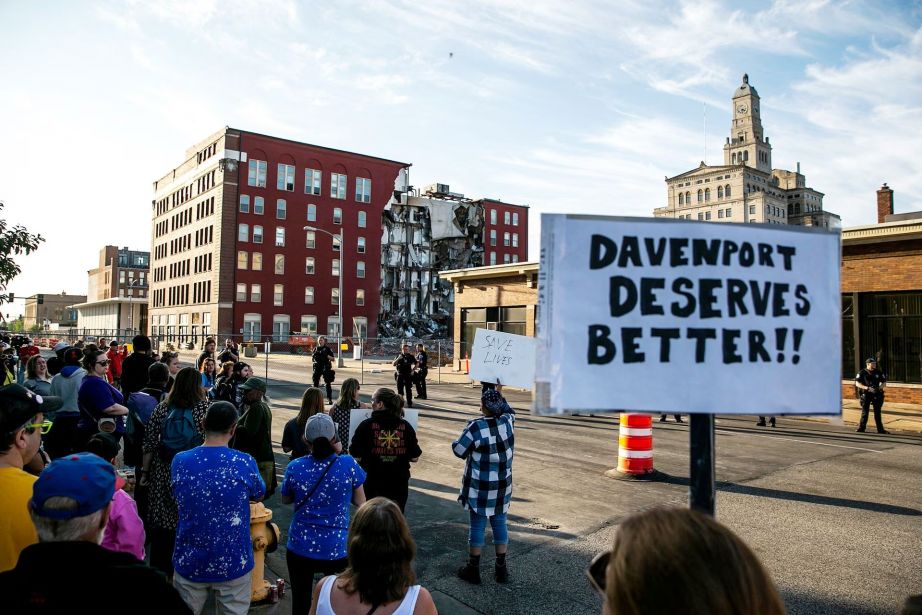 Photo Source: Davenport police officers form a line opposite protesters that are advocating for search efforts to continue near the site of an apartment building that partially collapsed in Davenport, Iowa, U.S. May 30, 2023. (Joseph Cress/USA Today Network via REUTERS)
Four days after a six-story Davenport, Iowa, apartment building collapsed, authorities continue to search for potential survivors while weighing when and how they will demolish the building.
The May 28 collapse took down a main portion of the building's interior apartment complexes. And although city officials have not announced any fatalities, two residents are still not accounted for, spurring fears of the worst from loved ones and the community as a whole.
One day after the building collapsed, city officials announced that rescue efforts had turned into a recovery operation, adding that they were planning to demolish the building by Tuesday morning.
After demolition plans were announced, they were just as quickly scrapped when a ninth resident was recovered from the building. Fifty-two-year-old Lisa Brooks was seen calling for help from the sixth story of the apartment building as fire and rescue crews raced to save her despite the building's instability.
Prior to Brooks' rescue, her family vented their frustration, explaining that city officials did not conduct an exhaustive search before deciding to demolish the building. "They allegedly did a sweep and said they didn't find anybody," said Lisa Brook's daughter, Porshia Brooks of Moline, Illinois. "They're trying to tear the building down without doing a proper sweep."
Following Brooks' recovery, officials announced they would hold off on demolition plans and continued their search for survivors. However, they detail that the equipment they are currently using, including laser-equipped drones, does not indicate that there are any signs of life inside the building or under the rubble. At least nine pets have been rescued following renewed search efforts.
As of Thursday morning at least three individuals who lived in the crash zone are still unaccounted for. They include a father, Branden Colvin, and another resident, Ryan Hitchcock. Amy Anderson, a relative of Hitchcock, shared during a press conference Monday evening, "I don't discount he could be trapped under there miraculously. We've seen some miraculous things, but we don't want to see any more families lose their lives or anybody else be injured in trying to remove that rubble."
In an interview with local reporters, family members point out that they could see Colvin's apartment building in the crash, leading to fears he was beneath the rubble. Colvin's cousin Mike Collier shared with reporters, "What we would like to do is basically have the city do their job, and get in there, and look under that rubble for our loved ones." Adding, "We need a thorough search of that building."
James Morris, a fire marshall for Davenport, shared following the renewed search, "The building is unstable and continues to worsen as time progresses. We are very sympathetic to the possibility that there are two people still left inside."
The building, which is at least 100 years old and was once the site of the Davenport Hotel, has been the subject of countless complaints from current and former residents for at least two years before the collapse. Residents complained of gas odors, sewage leakage, and other plumbing issues. Despite these complaints officials have still not been able to determine what may have caused the crash.
Reports from the Associated Press detail that according to court records the building was acquired by Andrew Wold in 2021 in a $4.2 million deal. In 2022 the building was declared a nuisance "due to numerous solid waste violations."
On Tuesday, the city filed an enforcement action against Wold, accusing him of failing to maintain the property "in a safe, sanitary, and structurally sound condition" prior to the collapse. As a result of the enforcement action, Wold was subjected to a $300 fine.
While no lawsuits have yet to be announced, it is likely a number of lawsuits are still to come and it's not clear if Wold could face any criminal action because of his failure to maintain the building and any potential loss of life.