California Legislature Passes Bill to Punish School Boards That Ban Books
by Maureen Rubin | Sep 15, 2023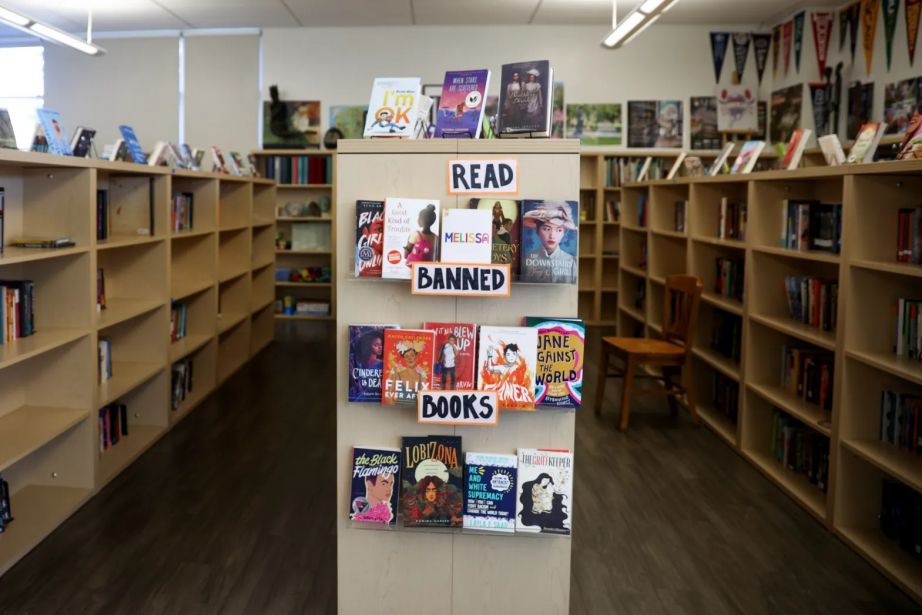 Photo Source: Mercury News via Shae Hammond/Bay Area News Group
As school boards across the United States escalate their efforts to ban books that teach about sexual orientation, race, history and gender, California is going in the opposite direction. Both Houses of the State legislature passed Assembly Bill 1078, and it is now headed for Governor Gavin Newsom's certain signature. The bill will monitor local school authorities and impose fines on those that censor textbooks or ban library books that are rejected for what the Los Angeles Times calls "discriminatory reasons."
The new law comes on the heels of Temecula, California's efforts to block an elementary school textbook from including information about San Francisco's gay Supervisor Harvey Milk, who was assassinated in 1978. Temecula's School board voted to ban the textbook last June because it believed lessons about LGBTQ+ rights are inappropriate for children. Newsom blocked that effort by threatening to send the textbook, which had the support of local teachers, directly to students. The School Board then reversed its decision.
AB 1078 amends California's Education Code to include protections that "support accurate and inclusive education in all of California's schools." It says, "Education is a fundamental right under the California Constitution… Under California law, California schools must create an equitable learning environment where all pupils, including lesbian, gay, bisexual, transgender, queer, and questioning (LGBTQ) pupils and Black, Indigenous, and other pupils of color feel welcome, including through honest discussions of racism, the history of slavery in our society and in California, and the diversity of gender and sexual orientation that reflects the lived reality of those pupils."
It goes on to say that "restricting access to classroom and library materials" that do not include these categories "constitute censorship in violation of California law and policy," and declares that State officials have the "power" and "authority" to enforce laws that support "pupils' right to receive accurate and inclusive education in California's schools."
In addition, the new law amends the State's Education Code to facilitate the monitoring and review of local education agencies for their compliance. State agencies will receive and investigate complaints, create timelines to resolve them, and "assess a financial penalty" on those that do not follow the law. The reduction in state funds will equal the amount of funding the school district would have received under a calculation involving the State's Instructional Materials Block Grant program.
Newsom's signature is quite certain since he "helped craft the legislation," according to the Times. After the bill passed, Newsom said, "California is the true freedom state: a place where families — not political fanatics — have the freedom to decide what's right for them. With the passage of this legislation that bans book bans and ensures all students have textbooks, our state's Family Agenda is now even stronger."
Newsom's quote is in line with a letter he sent to all local school boards after the Temecula textbook ban. It was co-signed by Attorney General Rob Bonta and State Superintendent Tony Thurmond and discussed civil rights and legal mandates that school administrators are required to follow. It said, "As state leaders elected to represent the values of all Californians, we offer our response in one shared voice: Access to books – including books that reflect the diverse experiences and perspectives of Californians, and especially, those that may challenge us to grapple with uncomfortable truths – is a profound freedom we all must protect and cultivate."
Temecula's textbook ban was not an isolated incident. In 2020, the city of Burbank banned To Kill a Mockingbird, Of Mice and Men and Huckleberry Finn after parents complained they were racist. But California's censorship is mild compared to the rest of the county. Pen America reports that the first half of 2022-2023 saw 1,477 book bans, an increase of 28% over the previous six months. The bans primarily took place in Texas, Florida, Missouri, Utah and South Carolina. Pen America is a non-profit organization that works to "ensure that people everywhere have the freedom to create literature, to convey information and ideas, to express their views, and to access the views, ideas, and literature of others."
Assembly Bill 1078 was written by Assemblymember Dr. Corey Jackson (D). After its passage, he said, "I am thrilled to see AB 1078 progressing through the legislative process...We're taking a firm stand against book banning in California's schools, ensuring that our students have access to a broad range of educational materials that accurately represent the rich cultural and racial diversity of our society."
Jackson's bill, which passed largely according to party affiliation, was opposed by conservative groups and the California School Boards Association, which said it will allow "unfettered state intervention before a school district is made aware of a complaint and has an adequate opportunity to review and remediate the issue." Assemblymember Devon Mathis (R), who voted against the bill, called it "government blackmail to our locals."
Although local school boards might bristle at this level of state intervention into their school districts, the passage of Assembly Bill 1078 sends a strong statement to students, teachers, and school boards alike. As Governor Newsom told the Los Angeles Times, "All students deserve the freedom to read and learn about the truth, the world, and themselves."