CA's Proposed "Teens Choose Vaccines Act" Would Allow Shots without Parental Consent
by Maureen Rubin, J.D. | Jan 25, 2022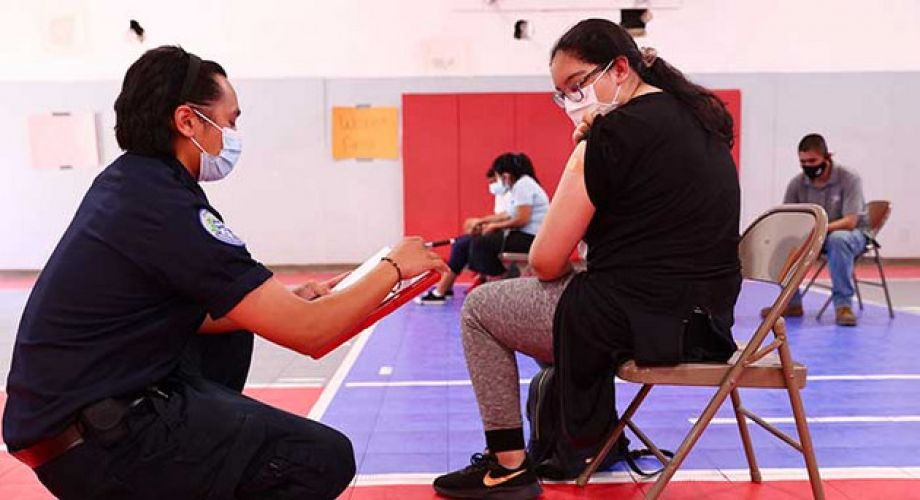 Photo Source: An EMT checks on a student in the observation area during a pop-up Covid-19 vaccination clinic at James Jordan Middle School in Winnetka, California. (Mario Tama/Getty Images via Politico)
When poet William Wordsworth wrote, "The child is the father of the man" in 1802, he most likely could not envision a time when children's innate wisdom would surpass that of their parents. He probably never thought there would come a time when children would be the ones to promote family health and safety.
A new California bill, the "Teens Choose Vaccines Act," (SB 866) would allow young people aged 12 and above to choose to get life-saving vaccines regardless of their parents' political views or work schedules. The bill, introduced by State Senator Scott Weiner, would "give young Californians the right to keep themselves healthy and safe."
Weiner, a Democrat from San Francisco, introduced his legislative proposal on January 21. Currently, in California, those between the ages of 12 and 17 cannot be vaccinated without the consent of their parents unless the desired vaccine is designed to prevent a sexually transmitted vaccine. In a press release from his office, Weiner explains that his proposed state law would remove a "significant barrier to teen health" in the state.
He cites statistics to support his legislation. "Nearly a million young people" in that age bracket are unvaccinated, and the lack of a vaccine puts them in danger. He said that "a recent study found that almost all teenagers who needed intensive care for COVID-19 were unvaccinated" and died.
In addition to serious adverse health consequences from being unvaccinated, there are practical reasons to pass the bill. Weiner said that the COVID-19 shots would also help teens "lead a normal life," since they would allow them to participate in sports and other after-school activities, or just hang out with friends. Being vaccinated also makes schools safer and helps educators to keep them open. He said that the proposed bill would be especially helpful to low–income families whose work schedules hamper their ability to take their kids to vaccination sites.
Weiner's bill would allow teens to receive any vaccine approved by the Food and Drug Administration (FDA), the Centers for Disease Control and Prevention, and the FDA's Advisory Committee on Immunization Practices. He points out that current laws already allow teens to get the human papillomavirus and hepatitis B vaccines and a variety of other health services without parental approval. They can obtain birth control aids, get abortions, and get treatment for sexually transmitted diseases and infections, as well as help for drug and alcohol-related conditions and mental health disorders.
He said that empowering teens to make their own health decisions is not a new concept and "would simply build on existing law." California is not the first or only state that seeks to empower teens to make their own decisions about health care. Alabama, Oregon, Rhode Island, the District of Columbia, and South Carolina already give teens that right.
"COVID-19 is a deadly virus for the unvaccinated and it's unconscionable for teens to be blocked from the vaccine because a parent either refuses or cannot take their child to a vaccination site," the Senator said. His bill would apply to all vaccinations and could help stop the spread of other diseases, such as measles.
There are also mental health advantages to receiving the vaccine. Weiner cited studies from the Department of Health and Human Services that report adolescents between the ages of 12 and 17 are "seven times more likely to experience a new or recurring mental health issue after getting sick with COVID."
Several experts were quoted in Weiner's release. Wendy Bloom, a pediatric nurse explained, "Many [teens] can't even go to school due to their state of vulnerability. I have tried to convince their skeptical parents that vaccinating them is so important to protect them. The teens totally understand it and want to get it, but without parental approval they have no choice but to remain unvaccinated. I had one teenager tell me she really wanted it but felt helpless to convince her parent to allow it. Her dad could not be moved."
Weiner's bill is just one example of how "teens worldwide want to #crushCOVID." The group Teens for Vaccines' website states that "their voices are not being heard." They are looking for "ambassadors across the U.S." and say that can be found with a simple click. It gives comprehensive explanations of vaccinations and parental consent laws in every state. It also explains how to get vaccines and provides answers to frequently asked questions. Founded by Arin Parsa, it tries to empower teens because "COVID is deadly" and "We teens are not a low risk group!"
In many states pro-vaccine teens are joined by healthcare providers who are working together to Max the Vax. They want more kids to get vaccinated and have created sites, programs, financial incentives, and even contests to encourage vaccinations.
Senator Weiner's bill and others across the country are showing that when it comes to health and safety, the old television show "Father Knows Best" is an anachronism. Time to hashtag and join a new generation that is showing they, not their parents, know best.