Celebrity Russian Soprano Anna Netrebko Sues MET Opera for Firing Her Over Ukraine Invasion
by Diane Lilli | Aug 18, 2023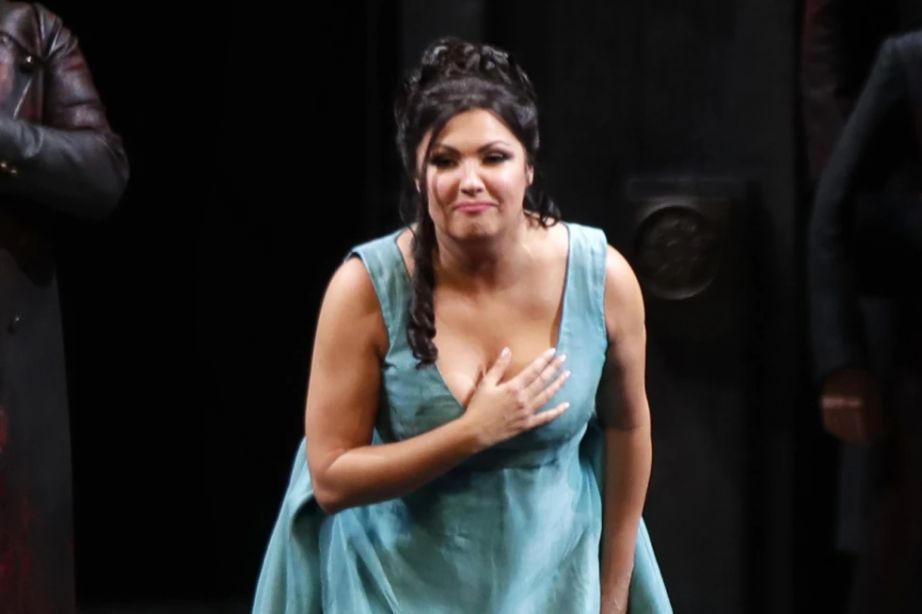 Photo Source: AP Photo/Luca Bruno, File
Renowned Russian soprano Anna Netrebko has played famous roles as one of the most popular opera singers in the world, perfecting characters such as Donna Anna in Mozart's Don Giovanni, Leonora in Il Trovatore, and Lady Macbeth in Macbeth.
Ms. Netrebko was one of the biggest box office names at the New York-based Metropolitan Opera but is now persona non grata. She first appeared in the MET Opera in 2022 and was hired to earn the top payment for performing artists at the organization, before she was axed. Ms. Netrebko was due to receive the Met's top fee of $17,000 per performance.
Ms. Netrebko, 51, is now suing the MET Opera for dropping her because she wouldn't denounce Russian president Vladimir Putin and his war against Ukraine.
The suit was filed in US district court in Manhattan. The opera star is seeking $360,000 damages against the MET Opera and is also suing General Manager Peter Gelb. Her allegations include defamation and breach of contract, plus other violations that she says are related to the MET Opera's decision to axe her after Russia invaded Ukraine. The suit also claims that Ms. Netrebko was discriminated against because of her national origin.
Ms. Netrebko, in her lawsuit, asks for a minimum of $360,000 in damages due to her lost performance and rehearsal fees. The MET Opera is disputing Ms. Netrebko's allegations.
The Russian opera star alleges that being fired from the MET Opera caused "severe mental anguish and emotional distress, depression, humiliation, embarrassment, stress and anxiety, and emotional pain and suffering."
The soprano's management team released a statement about the lawsuit.
"Since Russia's invasion of Ukraine, the Met and Peter Gelb have used Anna Netrebko as a scapegoat in their campaign to distance themselves from Russia and to support Ukraine," the statement said.
The American Guild of Musical Artists agreed. The organization also filed a grievance for Ms. Netrebko a few months ago. In February, the arbitrator Howard Edelman ruled that the Met violated the union's collective bargaining agreement by canceling the soprano's agreements. She had been slated to appear in numerous productions at the MET Opera, including Verdi's Don Carlo, La Forza del Destino, and Giordano's Andrea Chénier.
Arbitrator Edelman awarded Ms. Netrebko compensation for the lost performances, which The American Guild of Musical Artists calculated as $209,103.48.
The opera singer's contract included a "pay or play" clause. This provision mandates that institutions must pay performers, even if they later decide not to engage them at a later date.
As part of the arbitration ruling, however, Mr. Edelman said he decided that since Ms. Netrebko "voluntarily" removed herself from two other, specific roles, Wagner's Lohengrin and Puccini's Turandot, she was not owed any money for those performances.
The lawsuit specifically claims that the MET Opera perpetrated a breach of additional agreements for forty performances. These performances include Puccini's Tosca and Tchaikovsky's Pique Dame, scheduled for the 2024-25 season, plus Puccini's Manon Lescaut and Verdi's Macbeth for the 2025-26 season.
Ms. Netrebko, in court documents, claims that Mr. Gelb and MET Opera "harmed Netrebko's relationship among audiences, including by encouraging protests against her performances." Furthermore, the lawsuit alleges, the actions by Mr. Gelb and MET Opera created damage to the soprano's career and personal life.
The lawsuit alleges her firing hurt her regarding getting hired for other work in the United States, alleging damage to her "reputation caused by Gelb and the Met has caused other opera houses and cultural institutions in the United States to refrain from hiring Netrebko." She also states she was forced to sell her apartment, at a loss, in New York City.
The suit states that the impact of the MET Opera's actions has hurt her and loved ones in Russia too.
"Due to the Met's requirement that Netrebko issue public statements opposing the actions of Russian government, Russian politicians have denounced Netrebko, Russian theater companies have canceled contracts with her, Russian audiences have criticized her on her social media channels and in the Russian press, and Netrebko and her family and friends in Russia have suffered the risk of harm, retaliation, and retribution by the Russian government," the lawsuit states.
The Met Opera argued in arbitration that Ms. Netrebko was not entitled to payment because she would not comply with the MET Opera's demand that she repudiate Putin. The MET Opera said this violates their conduct clause.
Since the arbitrator awarded Ms. Netrebko only $209,1038, a portion of her lost wages of about $400,000, she filed a lawsuit against the MET Opera and Mr.Gelb.
In the new complaint, Ms. Netrebko states that the MET Opera still owes her most of her contract, additional fees, plus compensation for emotional distress and damage to her reputation.
The lawsuit also accuses the MET Opera and Mr. Gelb, who spoke to the media and criticized Ms. Netrebko, of waging a "defamatory crusade" against her.