Civil Restraining Order OK'd for Man Who Swore at Dog Who Peed on His Lawn
by Maureen Rubin, J.D. | Dec 22, 2022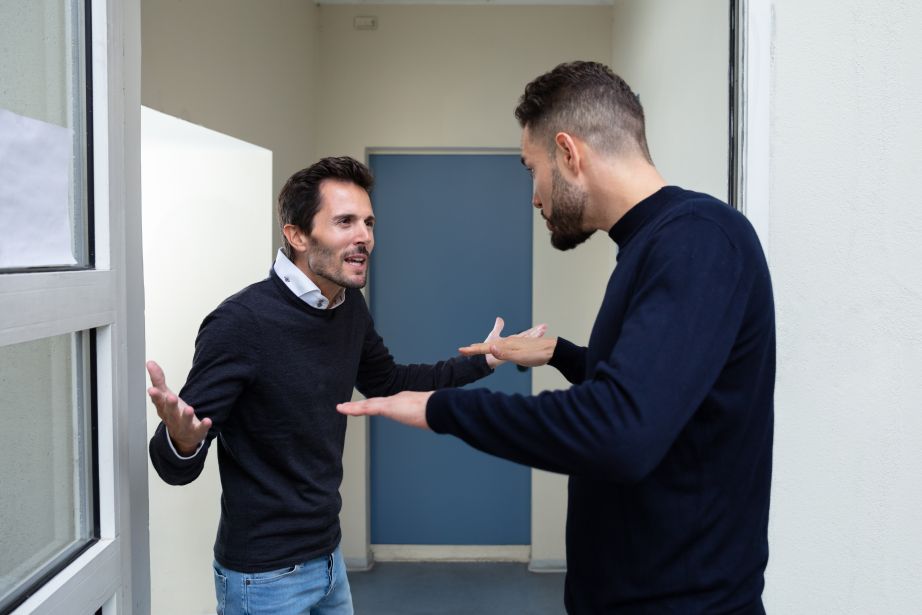 Photo Source: Adobe Stock Image
One of comedian David Letterman's best comedic bits was telling people to "get off my lawn." The tagline was popular with everyone from Jon Stewart, to Clint Eastwood, to the Wall Street Journal as it described a millionaire's response to protesters from Occupy Wall Street. No one probably imagined that using the phrase could actually result in a civil restraining order. But that's what just happened to a man who swore at a dog who was urinating in his front yard.
A unanimous opinion by a three-judge panel from California's First District Court of Appeal on December 12 found that a civil harassment restraining order against Tony Meneghetti (referred to in the case as Tony M. to protect his privacy) was affirmed. Writing for the Court, Contra Costa Superior Court Judge John Divine, sitting on assignment, wrote that Tony M.'s threats against his neighbor James Smith (James S.) were profane and threatening, and worthy of restraint.
The two men in the suit were next-door neighbors who were involved in a long-standing dispute about property rights. In 2018, James S. and his wife Mihaela began remodeling their home. Tony and his wife Shelli sent the Smiths multiple requests for information about their plans. When the Smiths repeatedly failed to respond to their requests for information, Shelli petitioned the San Francisco planning department for permission to review the plans. Her request was denied and, according to Judge Devine, the denial caused Shelli to become "very agitated."
The neighbors continued to argue. The Meneghettis accused Mihaela of stealing a package and repeatedly texted her. When she did not respond, the Smiths consulted an attorney and sent them two cease and desist orders, demanding them to stop communications, stalking, and entering their property. Shelli then filed a site permit appeal to learn more about alleged changes in the Smiths' building plans. A hearing was scheduled, but Shelli failed to appear, causing the commissioners to say that she was "vindictive" and abused the process. Shelli said she found out that no changes to the building plans were actually planned and she did not know how to "unappeal." Other disputes, including accusations that Shelli stole a package intended for Mihaela, also took place.
This background set the stage for the events that led to the civil restraining order. On April 29, 2021, when James was walking his 20-year-old dog on the sidewalk near his home, Tony M. "charged out of his house and reportedly yelled, "Get your fucking dog off my lawn. I'm going to kick your dog and punch you in the face if you don't get off." When Mihaela heard the shouts, Tony threatened her as well, shouting, "Get off my fucking property or will kick you and your dog if she pees in front of my house one more time."
Eleven days later, James filed his request for a civil restraining order to protect himself, his wife Mihaela, and their dog. A hearing was held in June at which James argued that the lawn is a public space on which "everybody walks." Tony denied ever making threats. He said he was frightened when the alarm went off because there had been some burglaries in the neighborhood. He then submitted a home security video of the events.
After reviewing the video, which San Francisco Superior Court Judge Murlene Randle said, "speaks for itself," the judge found by "clear and convincing evidence that there has been some harassment in this case." In her ruling, she referred to the remodel and stolen package disputes as well as the dog incidents. She then issued orders that prohibited both Meneghettis from contacting both of the
Smiths. The Meneghettis were also ordered to stay 50 yards away from the Smiths and their dog. When on their own block, Tony and Shelly were only required to stay three yards away. The order was to be in place for two years.
An appeal followed. After reviewing the facts, Judge Divine's opinion explained that "The appropriate test on appeal is whether the findings (express and implied) that support the trial court's entry of the restraining order are justified by substantial evidence in the record." He said that clear and convincing evidence was needed and would be reviewed to see if "a reasonable fact finder could have found it highly probable that the fact was true." The facts were to be looked at "in the light most favorable to the prevailing party," and due deference was to be given to how the trial court judge evaluated witness credibility and other evidence.
Appellants, the Meneghettis, said they had been deprived of their due process rights because the audio on the security camera video was not clear, the trial judge was biased, and their request for a written transcript of the video had been denied. Judge Divine found no violation of due process because the record showed that Judge Randle tried to hear the "muffled sound" on the video, she was correct in denying a written version of the audio portion to be included as evidence because the transcript the Meneghettis wanted to admit into evidence was not certified. Randle stated that the video portion, however, was clear and showed that Tony "aggressively approached the elderly dog and yelled at it." Tony also did not raise the video-transcript issue during the trial, so his argument on appeal "forfeited the issue."
Tony M.'s claims that Judge Randle was biased and not impartial also "lacked merit" even though her remarks were sometimes sarcastic. Divine wrote, "A judge's ordinary efforts at courtroom administration—even a stern and short-tempered judge's ordinary efforts at courtroom administration—remain immune." Her comments might have been pointed, but they did not show bias, Divine wrote.
The good news for Shelli, however, is that the District Court found the harassment order against her was "not supported by substantial evidence." Judge Divine found that all her questionable conduct about the plans and the package preceded the court's cease and desist order. The opinion then remanded the case to the trial court to vacate its order against Shelli. Tony, however, must continue to get off his neighbor's lawn.