Colorado High Schooler Defied Ruling That Banned Her Mexican Heritage Sash at Graduation
by Maureen Rubin, J.D. | Jun 01, 2023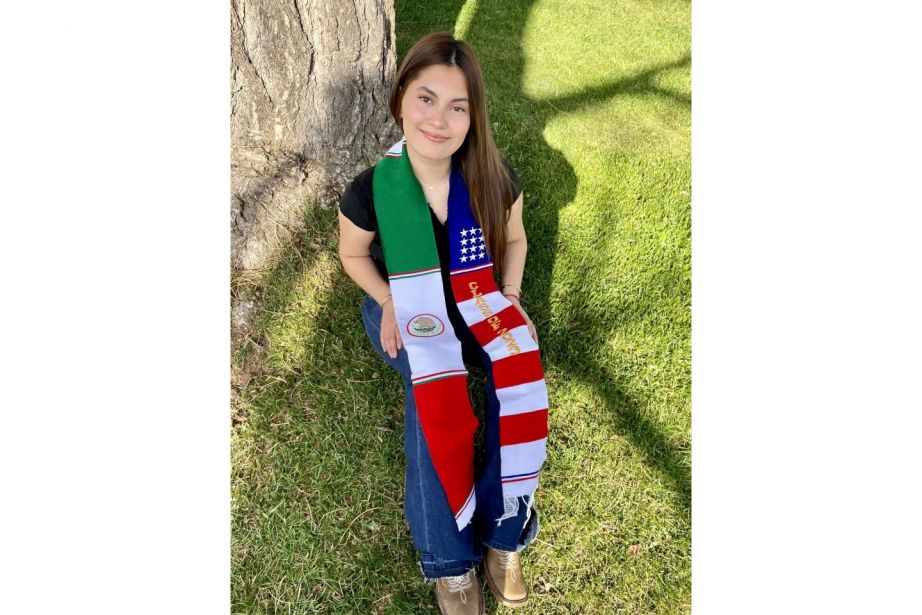 Photo Source: In this undated photo, Naomi Peña Villasano poses with a sash of both the Mexican and American flags that her school district barred her from wearing for her high school graduation ceremony. (Daisy Jasmin Estrada Borja via AP / Fortune)
A Colorado school district told a high school senior that she could not wear a sash that displayed both the Mexican and American flags to her graduation. She sued. A federal judge agreed with the school district. On May 27, she wore it anyway. And no one tried to stop her.
Naomi Peña Villasano, 18, attended Grand Valley High School in Colorado's Garfield School District 16. Born and raised in the United States, Villasano is proud of her Mexican heritage and wished to pay tribute to her grandparents on her special day by wearing a "sarape-style sash at graduation to reflect her heritage." A month before graduation, she and her fellow classmates received a letter that contained a list of do's and don'ts for apparel. There was no mention of sashes in the District's written rules.
The following day, she asked her principal, Kelly McCormick, if she could wear the culture-honoring sash. She had received it as a gift from her brother. The sash featured a Mexican flag on one side and an American flag on the other. The principal said no but offered to put her in contact with Dr. Jennifer Baugh, the District Superintendent. Baugh told Villasano that permitting flags on graduation gowns might offend others during what she called a "solemn, important ceremony in many families' lives. The President of the Board of Education agreed, although Baugh admitted that the Garfield District did allow "Native American or Pacific Islander tributes."
Villasano then filed suit in the United States District Court for the District of Colorado where Judge Nina J. Wang denied plaintiff's request for a temporary restraining order on May 26. Villasano's civil suit had three causes of action: violating the First and Fourteenth Amendments to the U.S. Constitution for "impermissible viewpoint-based regulation of speech; violating the Colorado Constitution; and violating the School District's rules that require it to "ensure" the right of students to display reasonably the flag of the United States…"
Wang's opinion first discussed the Court's right to jurisdiction, which required Villasano to show her likelihood of success and her likelihood of irreparable harm by a balance of equities. She also had to show that the injunction is "in the public interest." The judge found that since the sash would be considered "school-sponsored speech," rather than "private speech," it was thus "subject to the School District's discretion." In bold type, Wang referenced School District guidelines that explicitly state the district "reserve the right to disallow anything that is not considered appropriate for commencement ceremony."
Wang concluded that Villasano "failed to carry her heavy burden of establishing that there is a strong likelihood of success" on her First Amendment claims. She was also not persuaded that the plaintiff would prevail on her claims under the Colorado Constitution for similar reasons. Her argument, based on a Colorado statute, was also denied because the court found no right of action under the relevant statute.
Next, the court discussed whether Villasano would suffer "irreparable harm" if denied the right to wear her cultural sash. The plaintiff argued that "high school graduation happens once," and if she "must choose between losing her ability to express her culture and losing the opportunity to cross the graduation stage and receive her diploma in front of her family and community, she will be irreparably harmed." Again unpersuaded, Wang wrote that "Naomi will not suffer irreparable injury by having to express her culture in a form other than the sash."
Villasano's request for a temporary restraining order was thus denied.
On Saturday, May 27 Villasano wore the sash to graduation. When she arrived on the stage, she "fist-bumped" the principal and later told the press, "I was nervous. I'm not gonna lie. I was super nervous about what everyone's reason would be, but just like my senior quote, "Always stand up for what you believe in," I feel like that just overpowers everything." She added, "I think it's an experience and it's definitely a life lesson that a lot of people tend to face."
The School District said it would "review the policy for next year." None of the news coverage about the controversy revealed what Villasano would be doing next year. If she keeps standing up for what she believes in, great things are definitely predicted.