Danny Masterson Sentenced to 30 Years to Life Over Rape Allegations
by Nadia El-Yaouti | Sep 11, 2023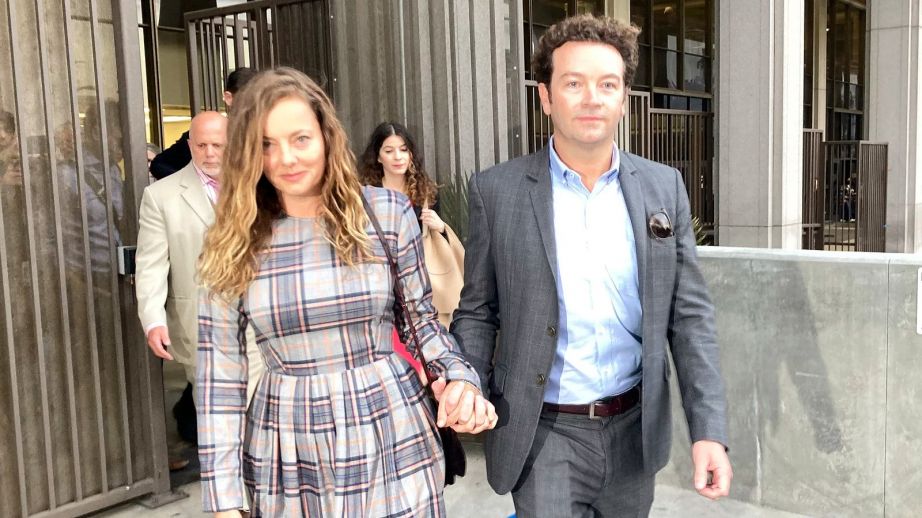 Photo Source: APR via Brian Melley/AP
Danny Masterson, the star of the hit show, "That '70s Show," was sentenced to 30 years to life in prison on Thursday following two convictions of raping two women in 2003.
After over 20 years, the victims were able to find some relief as they addressed Masterson in court via a victim impact statement.
One of the women shared, "When you raped me, you stole from me. That's what rape is, a theft of the spirit." The woman added, "You are pathetic, disturbed, and completely violent. The world is better off with you in prison."
The other woman also spoke in front of the court saying, "I knew he belonged behind bars for the safety of all the women he came into contact with. I am so sorry, and I'm so upset. I wish I'd reported him sooner to the police."
The statute of limitations in California regarding sexual assault is typically ten years. However, given Masterson's offense was "severe in nature" the statute did not come into play and the criminal proceedings were able to move forward. In California, no statute of limitations applies to crimes where life in prison is a potential punishment. In addition, the California Penal Code explicitly states that a prosecution for certain crimes, including rape, "may be commenced at any time."
Superior Court Judge Charlaine Olmedo reprimanded Masterson before handing down the stiff sentence. According to the Associated Press, Olmedo told Masterson that he might feel "victimized by a justice system that has failed you" because of his "claims of innocence."
Olmedo continued, "But Mr. Masterson, you are not the victim here. Your actions 20 years ago took away another person's voice, and choice. One way or another you will have to come to terms with your prior actions, and their consequences."
Masterson did not address the court but looked on as his victims addressed him. Through his attorneys, Masterson maintains that his interactions with the women were consensual. His attorneys shared that Masterson plans to appeal and that he maintains his innocence.
On May 31st, the 47-year-old Masterson was found guilty on two counts of rape by a jury made up of seven women and five men. The guilty verdict came after seven days of deliberation. The jury could not reach a verdict on a third count which related to allegations that he raped his long-time girlfriend. The guilty verdict came after a mistrial in late November 2022.
Sentencing came down after the defense motioned for a new trial early Thursday. However, that motion was rejected. Prior to sentencing, Masterson's defense pushed to have the two convictions run simultaneously and for sentencing terms of 15 years to life. The prosecution, however, won out after pushing for the maximum sentencing guidelines of 30 years to life.
Masterson's lawyer, Shawn Holley, spoke before the court telling Judge Olmedo, "It's his life that will be impacted by what you decide today and the life of his 9-year-old daughter, who means the world to him, and to whom he means the world."
Holley added, "He has lived an exemplary life, he has been an extraordinary father, husband, brother, son, co-worker, and community servant."
Masterson also found support in fellow former co-stars and other celebrity figures who asked the court for leniency. Masterson's wife, Bijou Phillips, wrote in a pre-sentencing support letter, "I can say that Danny has literally been a life-saving partner to me." Phillips added, "After he lost his show and acting career, he devoted himself to finding other ways to earn a living. He took classes to learn about growing grapes, wines and he became a sommelier. He also studied the business end of it."
Masterson's co-stars Mila Kunis and Ashton Kutcher also offered support letters that explained in part, "As a friend, Danny has been nothing but a positive influence on me."
"He's an extraordinarily honest and intentional human being," wrote Kutcher, who described Masterson as someone who avoided the temptation of drugs and alcohol in the Hollywood scene and that he was a good father to his daughter and a role model to Kutcher's own children. "While I'm aware that the judgment has been cast as guilty on two counts of rape by force and the victims have a great desire for justice, I hope that my testament to his character is taken into consideration in sentencing."
The prosecution maintained that Masterson was able to avoid the consequences of his actions by hiding behind his prominence in the Church of Scientology. The three women who brought the rape allegations against him were also members of the church at the time.
The women shared that when they reported Masterson to officials in the church, they were told that what they experienced was not rape and that they were advised not to go to law enforcement. The women maintained that the Church of Scientology effectively acted in a way to protect Masterson, a prominent figure in the church.
The church has since released a statement saying that "testimony and descriptions of Scientology beliefs" made against them during the trial were "uniformly false."
Masterson has been behind bars since May following his conviction. He was denied bond because he was deemed a flight risk. Masterson will now begin his prison sentence and is expected to be eligible for parole when he is 77.