Family of Tyre Nichols Files Landmark $550 Million Civil Lawsuit Against Memphis and Police Officers
by Nadia El-Yaouti | Apr 25, 2023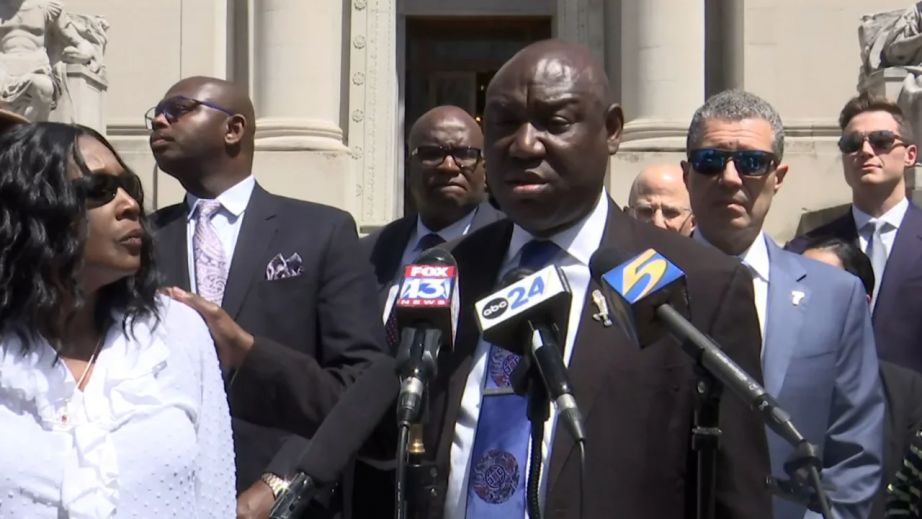 Photo Source: Ben Crump announces the filing of a civil lawsuit against the City of Memphis, the Memphis Police Department, and individual officers for the January 2023 death of Tyre Nichols. (WHBQ via CNN)
After the brutal beating death of 29-year-old Tyre Nichols earlier this year, the Nichols family is pursuing a $550 million Federal lawsuit against the city of Memphis. The lawsuit was announced last week and comes just three months after the fatal night officers pulled over Nichols and engaged in actions that led to his death.
The lawsuit is not just a monetary effort to hold the police department and the city accountable. Attorney and prominent civil rights leader Ben Crump announced that the sum of $550 million was a symbolic tribute to the 55 years since the assassination of Martin Luther King.
In announcing the lawsuit during a news conference in Memphis, Crump explained, "This lawsuit and the amount we are suing for is a message that if you keep giving license to these gang-minded police officers to perpetrate acts of terrorism on Black and brown people, then we're coming to your city and we're going to bring these lawsuits.
During the evening of January 10th, Nichols was pulled over following a traffic stop by the city's elite "Scorpion Unit." Officer body cam footage of that traffic stop shows a heated exchange in which officers seemingly approach Nichols with aggression. At one point, Nichols can be heard on the police body cam footage saying, "You guys are really doing a lot right now."
Nichols, who was minutes away from his house, was met with officers who can be heard yelling obscenities including, "I'm going to beat your a--" and "I'm going to tase your a--."
A moment appears when officers pull out the stun gun, prompting Nichols to run from what he perceived as a threat. Officers can then be seen pursuing the unarmed Nichols, eventually stopping him at a street corner. At this point, surveillance footage shows the group of officers repeatedly kicking and beating Nichols even after he was handcuffed and held on the ground. At one point, an officer can be seen using a baton and striking Nichols on the head and torso.
Responding emergency medical personnel also appear on surveillance footage seemingly failing to render aid as Nichols appears slumped over.
Following the footage released of the traffic stop and the subsequent brutal police beating, there was a national outcry against the group of officers who were involved. On January 18th, a federal investigation was launched into the traffic stop. Two days later, five of the police officers involved were fired from the Memphis Police Department. On January 26th, the first charges were brought against the five officers. Each faced second-degree murder charges, kidnapping, aggravated assault, and other related charges. All five officers have since pleaded not guilty.
The unimaginable police response resulted in additional charges against other officers, including terminations and investigations. The police department's elite Scorpion unit which was likened to an aggressive gang was later dismantled after community members continued to voice their concerns about the unit's aggressive policing tactics against the community.
The lawsuit, which was filed by Nichols' mother, RowVaughn Wells, details that the police beating was a "direct and foreseeable product of the unconstitutional policies, practices, customs, and deliberate indifference of the City of Memphis."
Wells maintains that her goal behind the lawsuit is to hold those accountable who caused her son's untimely death. During a news conference, she shared, "Those five police officers murdered my son. They beat him to death and they need to be held accountable along with everyone else that has something to do with my son's murder."
The lawsuit highlights the gang mentality of this specialized policing unit, likening Nichols' experience to the 1955 killing of 14-year-old Emmitt Till. The lawsuit explains that Nichols' suffering was at the "hands of a modern-day lynch mob" and that "Unlike Till, this lynching was carried out by those adorned in department sweatshirts and vests and their actions were sanctioned – expressly and implicitly – by the City of Memphis."
The lawsuit takes specific aim at the ineffectiveness of the Scorpion unit and its unjust aggression that has "been given the license by city leaders to go in and terrorize Black and brown communities," as explained by Crump.
Both Crump and representing attorney Antonio Romanucci emphasize that this complaint is intended to be a landmark lawsuit designed to hold police departments and state officials accountable.
The US Department of Justice is still reviewing the Memphis Police Department and its actions on the day of Nichols' encounter with police.