Federal Judge Rules California's Ban on Obscene Vanity License Plates Violates Freedom of Speech
by Nadia El-Yaouti | Dec 03, 2020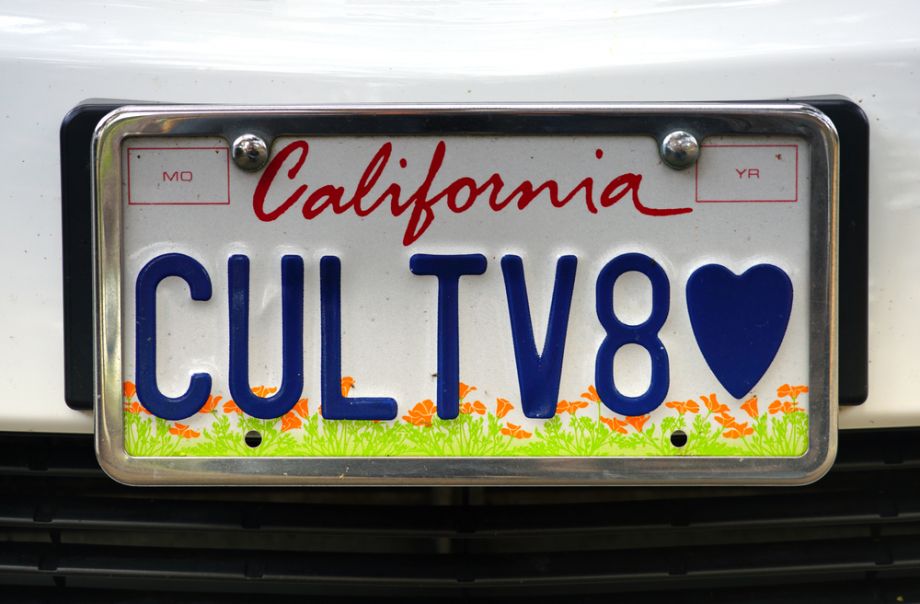 Photo Source: Shutterstock Image
A California DMV license plate standard that bans offensive license plates has been ruled unconstitutional and a violation of the First Amendment's freedom of speech by federal judge Sallie Kim.
The current standard stipulates that the DMV must approve license plates with potentially offensive language before the plates can be issued to the vehicle owner. According to the California DMV, offensive language is defined as a vanity plate "carrying connotations offensive to good taste and decency."
Regarding the California DMV standard, the Federal District Court of the Northern District of California ruled that this definition of an unacceptable vanity plate was not "viewpoint neutral." The Court goes on to explain, "The Court does not hold that the DMV cannot prohibit certain words from appearing on environmental license plates. For example, obscenity, vulgarity, profanity, hate speech, and fighting words fall outside the scope of the First Amendment's protections. However, this Court follows the Supreme Court and concludes that once it has found that aims at the suppression of 'views,' it no longer matters that the DMV could have captured some of the same speech through a viewpoint-neutral regulation."
Referring Judge Jon Tiger also expressed that even if the viewpoint neutrality did not apply, the DMV standard would have still been unreasonable because it "failed to provide an objective, workable standard." And in failing to do so, the DMV is using a system that is arbitrary and relies on opinions rather than concrete standards. The California DMV standard cannot set the bar on what is deemed "offensive to good taste and decency," as different people can interpret that statement differently.
The Pacific Legal Foundation filed the lawsuit on behalf of Chris Ogilvie, Andrea Campanile, Paul Crawford, James Blair, and Amrit Kohli.
The plaintiffs' representing attorney, Wen Fa, revealed that California's DMV had four employees who were "full-time reviewers." Their only duty was to approve or reject license plates based on whether or not they met the state's license plate standard on "good taste and decency."
Fa goes on to add that the full-time reviewers would use sources including Reddit, Google Translate, and Urban Dictionary to see if plates held derogatory, demeaning, sexualized, and otherwise inappropriate meanings. Fa explains regarding the methods used, "I think we've shown in this case that they reach inconsistent, subjective and arbitrary results."
The Faces Behind the Vanity Plates
Chris Ogilvie, who is a U.S. veteran, applied for a vanity license plate that read "OGWOOLF." The DMV denied the plate because they said "OG" was vulgar in that it was slang for "Original Gangster," deeming it "offensive to good taste and decency." Ogilvie maintains that the plate was referring to his nickname during his service in the military.
Andrea Campanile applied for a license plate that was a play on the term "Ducati and Andrea." Her license plate application read "DUK N A" and was rejected because it was too similar to an obscene sounding phrase. This came after Campanile's husband applied and was approved for a vanity plate that read "DUKN GO".
Paul Crawford, who owns a Shakespearean Pub in San Diego and immigrated from England, tried to apply for tags that read "BO11LUX." The DMV rejected his application because his plates were deemed to have a sexual connotation. This is despite the term "bullocks" having been used in a national advertising campaign to mean "nonsense."
James Blair applied for a plate that read "SLAAYRR" in reference to his favorite band, Slayer. His plate was rejected because it was deemed obscene due to its "threatening, aggressive, or hostile" nature.
Lastly, Amrit Kohli was denied his license plates that read "QUEER." Kohli, who is an engineer, musician, producer, and owner of Queer Folks Records, wanted to use the word as a way to reclaim the meaning of it. Kohli shared with a local news station the following, "As someone who identifies as queer, it's something I hold dear to my heart and really believe in. Now at this time in not only history, but in my life, to reclaim that word and make it part of our community and a positive part of our community is really empowering."
Referring Judge Jon Tiger and presiding Judge Sallie Kim likened Kohli's experience to that of the Supreme Court case Matal v. Tam in which an Asian singer tried to reclaim the word "slant" by naming his band "The Slants." Judge Tiger noted that by denying the license plate "QUEER," the DMV decision "reflects both the assessment of a viewpoint – an assessment that may or may not be correct, depending on the context – and the regulation's effect of 'disfavoring' ideas that offend."
After the win, the nonprofit law firm Pacific Legal Foundation that represented Ogilvie, Campanile, Crawford, Blair, and Kohli for free shared the following statement, "This is a great day for our clients and the 250,000 Californians that seek to express their messages on personalized license plates each year. Vague bans on offensive speech allow bureaucrats to inject their subjective preferences and undermine the rule of law."
This nonprofit group committed to protecting Americans from government overreach and abuse has active cases in 39 states and has won 12 of its 14 cases that have been heard by the U.S. Supreme Court.