Lawsuit Seeks Medical Testing and Damages Following Explosive Ohio Train Derailment
by Nadia El-Yaouti | Feb 15, 2023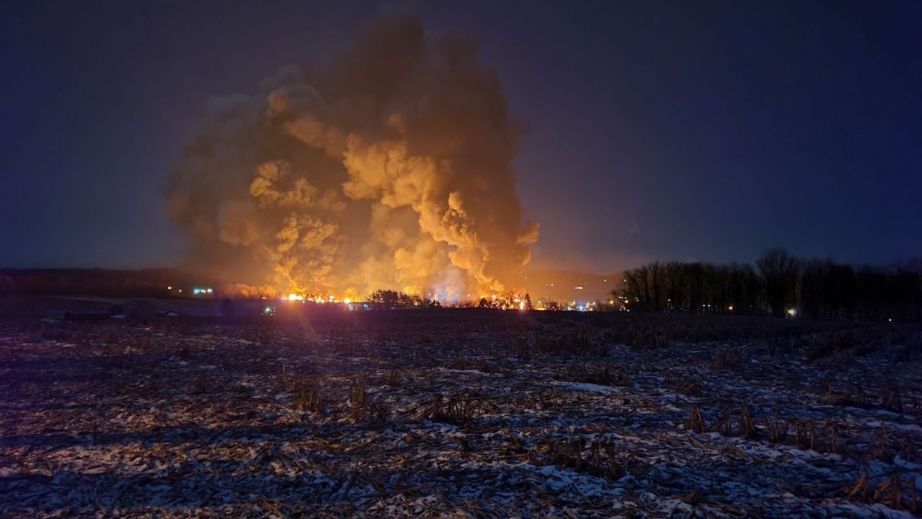 Photo Source: The evacuation order in East Palestine, Ohio, has been lifted, but many residents remain wary. (Kevin Csernik via CNN)
A train derailment that happened in Palestine, Ohio, on February 3rd has led to a class action lawsuit filed by local residents who demand answers after the 150-car train derailed, caught on fire, and leaked hazardous chemicals including vinyl chloride into the air and environment.
Officials have still been unable to determine what caused the fiery derailment which resulted in a series of explosions in the days after. However, officials have been able to determine that the toxic chemicals, many of which are known carcinogens according to the Environmental Protection Agency, were responsible for the death of over 3,000 fish in nearby streams spanning up to eight miles.
Immediately after the derailment, officials warned residents to evacuate the area. After consistent testing, on February 8th, officials announced that it was safe for them to return. Despite this, many residents and business owners have been hesitant to return when so much remains unknown.
What is clear, however, is that residents are upset about how authorities have handled the derailment, as well as the lack of responsiveness by the railroad company and other associated entities. This new class action lawsuit seeks to hold these defendants responsible by demanding the rail operator pay for medical screenings for nearby residents and anyone else who may have been impacted by the train derailment.
The federal lawsuit, which is seeking class-action status, was filed by three Pennsylvania residents, two local residents, and an East Palestine business owner. The lawsuit accuses Norfolk Southern of negligence and of exposing toxic substances into the environment and is seeking unspecified damages.
One issue the class action lawsuit takes aim at is the decision by officials to intentionally set off a controlled burn as a way to prevent large-scale explosions. The controlled burn which took place three days after the crash has allegedly triggered health concerns for residents in the surrounding area, causing many to suffer persistent coughs, shortness of breath, skin irritation, and other symptoms. According to a local news report by WTAE, nearby resident Dave Anderson who lives just under five miles outside of where the derailment took place was one of many who suffered breathing concerns. Days after the derailment, he and his family began experiencing health symptoms. "Our lips and mouths started to burn, our tongues started to swell up. It was like a stinging burn, and our eyes were watering. Our eyes were burning, and we realized we couldn't stay here," Anderson shared.
The two legal firms representing the plaintiffs, Edgar Snyder & Associates and Grant & Eisenhorfer, explain that Norfolk Southern should agree to "medical monitoring the residents in the affected area" and that they should be held responsible to engage in a real-time collection of data that would reflect the health concerns locals are experiencing.
As more information into the cause and effects of the derailment continues to develop, there has been public outrage growing against Norfolk Southern and how it handled the train derailment. Federal officials including President Biden and Secretary of Transportation Pete Buttigieg have shared that they "pledged their full support to the people of Pennsylvania."
Additionally, residents have continued to voice concerns that water sources and air quality might still be compromised despite officials sharing that air quality and water testing have not reached concerning levels. Still, residents have been encouraged to continue using bottled water.
Following the derailment, the NTSB led the federal investigation as it worked alongside the EPA and other local entities to determine the next steps forward. While the NTSB is still working to determine whether Norfolk Southern was in violation of any compliance or regulatory laws, the EPA has shared that the train operator may be held liable for reimbursing the agency for costs incurred.
While this proposed class action lawsuit is the first complaint to transpire, it is likely that additional lawsuits may follow in the coming weeks and months. As residents throughout the community of Palestine continue to assess how they will move forward, local leaders have pledged to work with residents and businesses to address their concerns and ensure that the area is safe.