Let's Get it On for $100 Million: Ed Sheeran copyright infringement case heads to trial over allegations his hit song plagiarized Marvin Gaye's hit
by Diane Lilli | May 01, 2023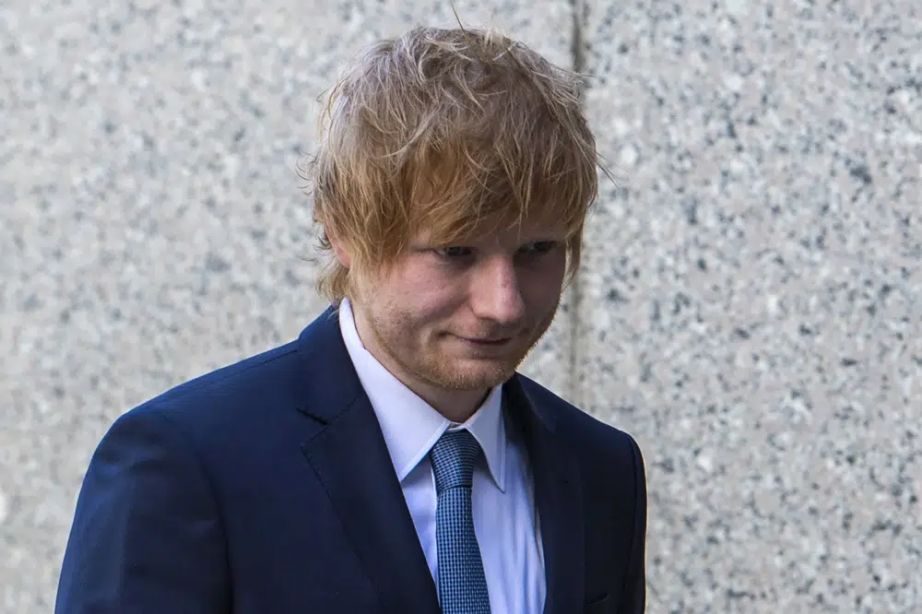 Photo Source: AP Photo/Brittainy Newman
Hit singer/songwriter Ed Sheeran, 32, is famous for his red hair, powerful romantic voice, and best-selling songs across the globe. Now, he is going viral because of a 2016 lawsuit alleging the celebrity singer broke copyright laws over his song "Thinking Out Loud." Now, a judge has denied Sheeran's motion to toss the case, and instead, the suit is headed to trial.
Six years ago, the estate of Ed Townsend, who co-wrote the top-selling Marvin Gaye classic song "Let's Get It On," filed his suit against Sheeran, over numerous similarities between Sheeran's new hit and the famous 1973 Marvin Gaye song.
The company that purchased one-third of the Marvin Gaye song, Structured Asset Sales, also filed a lawsuit in 2018 for the same alleged broken copyright laws for "Let's Get It On" against Sheeran.
Court documents claim Sheeran repeatedly uses the melody, harmony and rhythm from the classic Gaye song in his contemporary song.
"The Defendants copied the 'heart' of 'Let's' and repeated it continuously throughout 'Thinking,'" the 2016 lawsuit alleges in the suit. "The melodic, harmonic, and rhythmic compositions of 'Thinking' are substantially and/or strikingly similar to the drum composition of 'Let's.'"
The Townsend estate's 2016 lawsuit had been held off due to a very similar lawsuit in another case in regard to the Led Zeppelin famous hit "Stairway to Heaven." In that case, the band Spirt sued over their song "Taurus," alleging Led Zeppelin infringed on copyright laws. However, The Ninth Circuit Court of Appeals upheld the 2016 decision that "Stairway to Heaven" did not break any copyright laws based on Spirit's 1968 instrumental track, "Taurus." This ruling also changed the long-standing copyright precedent set decades ago, after the court ruled the song "was not intrinsically similar" to Taurus.
This outcome of the Led Zeppelin case was seen as setting a new precedent in similar copywriter infringement lawsuits. The court had reviewed not only the written sheet music but also the studio arrangements
In the Ed Sheeran case, Judge Louis Stanton said that the case must go to trial because a combination of two "unprotectable elements" may not legally be considered an original work.
"There is no bright-line rule that the combination of two unprotectable elements is insufficiently numerous to constitute an original work," said Judge Louis Stanton."A work may be copyrightable even though it is entirely a compilation of unprotectable elements."
A few days ago, Ed Sheeran took the stand in New York to deny all claims that he took elements of "Let's Get It On" and used it in his song. In court, when video footage was shown of him singing both his song and "Let's Get It On" on stage at a major concert, switching from one to the other, Sheeran said it was "quite simple to weave in and out of songs" when they are created in the same key.
After the court was shown the singer merging songs at the huge concert, singing them side by side on stage, one of the plaintiff's lawyers said it was "tantamount to a confession."
Sheeran disagreed.
"I'd be an idiot to stand on a stage in front of 20,000 people and do that," Sheeran said.
The singer also told the court that despite writing numerous hit songs, "I can't read music. I'm not classically trained in anything."
A few months ago, Sheeran won a plagiarism suit against him in the U.K. The lawsuit claimed his hit "Shape of You" was a product of plagiarism, and in 2017 the musician settled a copyright infringement case over his hit "Photograph."
At the contentious trial, Kathryn Griffin Townsend, who is suing Sheeran for copyright infringement, collapsed in the courtroom and had to be taken to the hospital.