Movie Subject and NFL Star Michael Oher Sues Family for Hiding and Not Sharing Hidden Profits From His Life Story
by Diane Lilli | Aug 28, 2023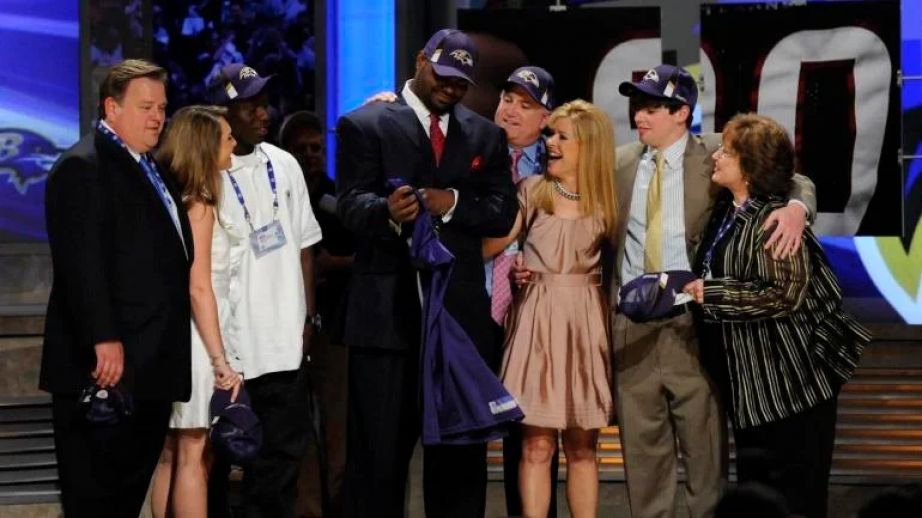 Photo Source: USATSI via CBS
A new lawsuit filed by a former foster child who achieved great success poses a daunting question in his case: is justice blind?
The blockbuster 2009 movie, The Blind Side, was a Hollywood story that offered a heartwarming "true life" tale. In 2004, a well-off white family took in a foster child, Michael Oher, who was a promising top football player who seemed to be poised for NFL stardom.
Memphis couple Sean and Leigh Anne Tuohy invited Oher to live with them and their two children, supporting him yet not adopting him. Since the Tuohys were major donors to football, however, the young NFL prospect could not break legal N.C.A.A. rules mandating against any donors giving benefits to football recruits.
The Tuohys and Oher agreed on a creative plan short of adoption: to create a conservatorship. The couple went to a judge, requesting power of attorney authority, over Oher's affairs, control of his medical choices, and the right to legally approve any financial contracts he was offered. Though Oher was 18 at the time, he agreed to these conditions.
Oher attended the University of Mississippi and later signed with the NFL.
The movie based on his life became a blockbuster film, and its star Sandra Bullock won an Academy Award for her role as Mrs. Tuohy.
From his humble beginnings to his NFL success story, the Tuohys often called Oher their adopted son. In an article in The Wall Street Journal, Mrs. Tuohy said that "our adoption of Michael" … was "just a formality, the legal completion of an emotional process that had started long before."
Now, however, the image of what seemed to be a close-knit family is under legal scrutiny, as Oher, now 37, alleges the Tuohys profited from his life story and success yet did not share the full profits with him.
In the lawsuit, Oher is petitioning the court for a thorough accounting of all the ways the Tuohys profited from his life story, from what he says is "the lie of Michael's adoption."
In his lawsuit, Oher asked for the almost two-decade conservatorship to be ended. He also alleges that the Tuohys earned profits from the movie deal and hid them from him.
Michael Lewis, who wrote the book that led to the hit movie The Blind Side, said publicly that he and the Tuohys each made $350,000 from the film. Oher, however, has said he made nothing for the rights to his own life story.
The Tuohys deny all allegations, and said it was a "shakedown." They did, however, agree to end the legal conservatorship.
The legality of the conservatorship has come under scrutiny as well, for numerous reasons.
In Tennessee, it is mandated that an appointed investigator must assess Oher's need for a conservator and decide whether, in this case, the Tuohys should serve in that role. Also in Tennessee, there must be an annual report and status filed for conservators, yet the Tuohys never filed one.
Tennessee law mandates that conservatorships must protect those who have a disability and lack the capacity to make decisions in one or more important areas, neither of which Oher suffered from at any time.
As the law TN Code § 34-1-101 (2021) states, "Conservator" or "co-conservators" means "a person or persons appointed by the court or an entity to exercise the decision-making rights and duties of the person with a disability in one or more areas in which the person lacks capacity as determined and required by the orders of the court." The law defines "Conservatorship" as "a proceeding in which a court removes the decision-making powers and duties, in whole or in part, in a least restrictive manner, from a person with a disability who lacks capacity to make decisions in one or more important areas and places responsibility for one or more of those decisions in a conservator or co-conservators."
In their conservatorship request, the Tuohys never said that Oher was suffering from any disabilities. The judge did note upon approving this unusual conservatorship that Oher did not seem to have any disability, and indeed a doctor reported that he had "no known physical or psychological disabilities." The decision by the judge to grant the conservatorshpo therefore did not legally meet the common legal standard, as per The New York Times.
The movie went on to earn over $300 million at the box office, plus much more in residuals.