Seven Officers and Three Hospital Staff Members Arrested After Black Man Died While in Custody
by Nadia El-Yaouti | Mar 23, 2023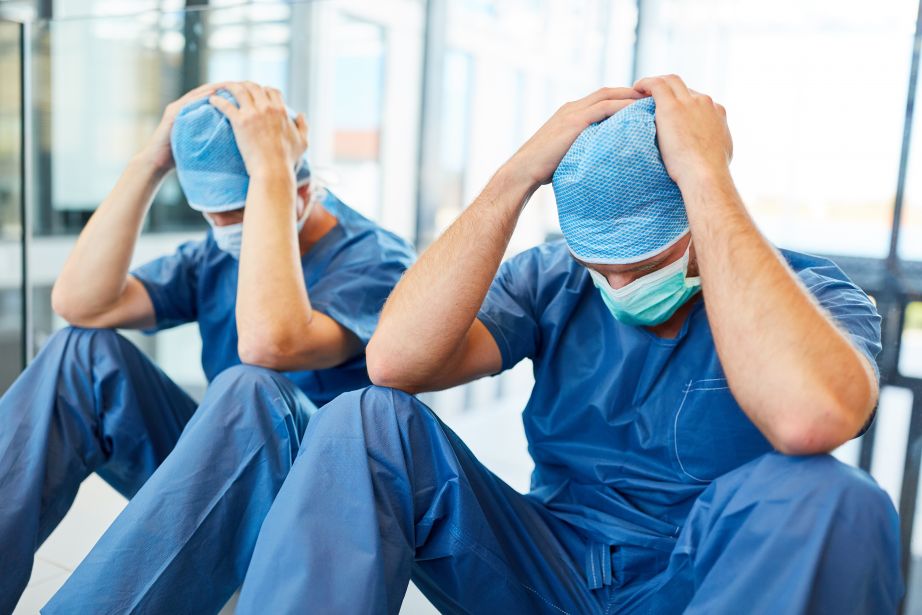 Photo Source: Adobe Stock Image
Seven law enforcement officers and three hospital employees are facing charges of second-degree murder after the death of a Black man at a Virginia state psychiatric hospital.
Twenty-eight-year-old Irvo Noel Otieno was taken into emergency custody on March 3 by Henrico County Police. According to a police report, officers were dispatched to a call about a potential burglary. After officers arrived on the scene, they determined that Otieno was in mental distress and took him into custody to be transferred to an area hospital for further evaluation.
Once at the hospital, police officers allege that Otineo became aggressive with officers. In turn, the officers arrested him and transported him to the Henrico County Jail. His charges included assault on a law enforcement officer, disorderly conduct in a hospital, and vandalism.
After arriving at the jail facility, Otieno's family explains that he was "brutalized" by officers. They allege he suffered from being pepper-sprayed, being stripped naked, and being deprived of his medication. After three days in the Henrico County Jail, Otieno was transferred to the state-run mental health facility, Central State Hospital.
According to officials, Otieno was restrained via leg shackles and handcuffs after arriving at Central State Hospital. During the hospital intake process, Otieno's family and legal team allege that the seven police officers on the scene and three Central State Hospital staff members engaged in actions that would ultimately lead to Otieno's death.
Dinwiddie County Commonwealth's Attorney Ann Cabell Baskervill explains that video footage of the intake process showed deputies holding Otieno on the ground for at least 12 minutes. The video has not been released to the public, but details about the events that unfolded after Otieno arrived paint a grim picture of how officers and facility staff administered care for Otieno. Baskervill explained, "They smothered him to death. He died of asphyxia due to being smothered." Baskervill added that the video was "extremely clear, extremely alarming."
The family's attorney Mark Krudys shared with CNN that Otieno's family was left "grief-stricken" after they learned about the brutal nature in which Otieno died. "The public, and experienced mental-health professionals alike, will be deeply disturbed when the facts of this case are fully made known."
Bakervill identified the seven deputies as Randy Joseph Boyer, 57; Dwayne Alan Bramble, 37; Jermaine Lavar Branch, 45; Bradley Thomas Disse, 43; Tabitha Renee Levere, 50; Brandon Edwards Rodgers, 48; and Kaiyell Dajour Sanders, 30.
The three employees at Central State Hospital have also been identified as Darian M. Blackwell, 23; Wavie L. Jones, 34 and Sadarius D. Williams, 27. It is not clear what role they held at the hospital or how their actions may have played into Otieno's death.
Under Virginia law, individuals can be placed under an emergency custody order if they are deemed to be a threat to themselves or others as a result of a mental health episode. It was under this law that Otieno was apprehended initially.
According to the family, Otieno had struggled with mental health and was on medication for his illnesses. However, after he was taken into custody he was unable to get access to his medication. His mother has shared through the family's attorneys that she went to the jail on at least one occasion to deliver her son's medication but was told that Otieno would be taken to a doctor.
In a statement shared on Facebook by the local police union, the Henrico Fraternal Order of Police Lodge 4, the group issued a statement that explained, "Policing in America today is difficult, made even more so by the possibility of being criminally charged while performing their duty," the group said. "The death of Mr. Otierno was tragic, and we express our condolences to his family. We also stand behind the seven accused deputies now charged with murder by the Dinwiddie County Commonwealth's Attorney Ann Baskervill."