Stanford University Responsible for Soccer Star's Suicide, Claims Wrongful Death Lawsuit Filed by Parents of Katie Meyer
by Nadia El-Yaouti | Dec 06, 2022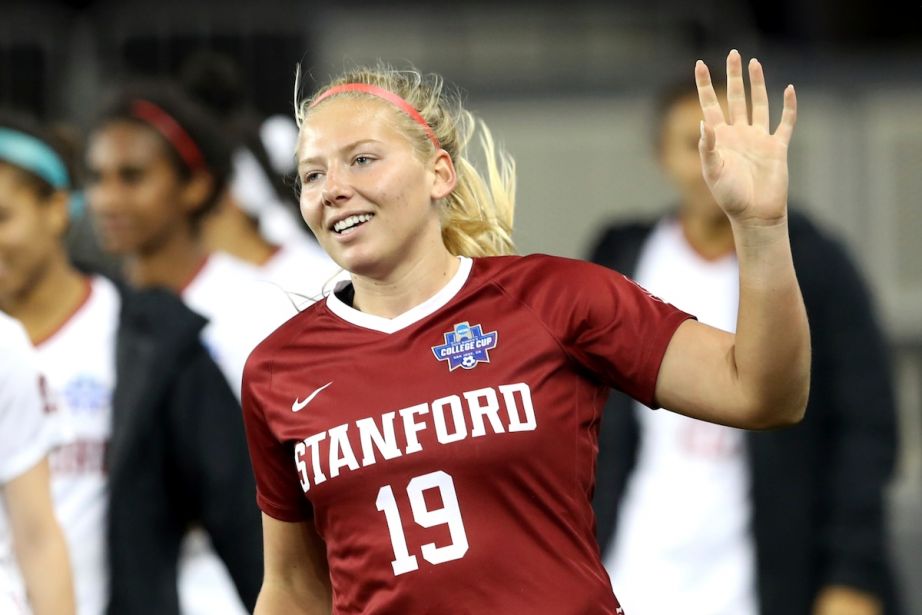 Photo Source: Stanford goalkeeper Katie Meyer acknowledges the crowd after a national semifinal win against UCLA on Dec. 6, 2019. Meyer's parents have filed a wrongful-death lawsuit against Stanford, saying the 22-year-old goalie was distressed over facing discipline over an incident from August 2021. (Ray Chavez/Bay Area News Group/AP)
In a lawsuit filed last week in Santa Clara County Superior Court by the parents of Stanford University student Katie Meyer, the parents accused the university of negligent actions in disciplining their daughter. They say the negligent actions led to their daughter's death.
Meyer was the captain of the University's soccer team, held a 3.84 GPA, and had ambitions of going to law school after graduating. On February 28th Meyer opened up her email and was met with a disciplinary letter from school officials. Shortly after opening the letter, Meyer was found dead in her dorm room by apparent suicide.
As a result of the disciplinary action, the parents maintain that the university is responsible for their daughter's death.
The disciplinary letter stems from an event that occurred in August 2021. According to reports, Meyer accidentally spilled coffee on a football player and in a separate incident was accused of assaulting a 17-year-old soccer player.
The football player is not identified in the lawsuit but alleges that the incident did not warrant a complaint with the university, so the football player did not file one. Despite this, the dean of residential education went on to report the incident to university officials. As a result of this report, an investigation was launched against Meyer. The investigation outlined that Meyer's behavior had "resulted in a physical injury." Additionally, the report also referenced a claim in which a soccer player, allegedly Meyer, had kissed a football player without consent. The assault claim detailed that "the criteria for moving forward with an investigation were not met."
After an investigation was launched following the coffee spill, Meyer met with University officials in September and then made contact again two months later. Meyer issued a statement to university officials regarding the incident and highlighted that she was "stressed out for months" and "terrified that an accident will destroy my future."
At the time, Meyer was a senior and had ambitions of applying to law school after graduation. Meyer had shared on several occasions that she feared how the disciplinary process would impact her academic ambitions moving forward. After months of not hearing back from university officials, Meyer was under the impression that disciplinary action into the event had concluded. Then on February 25, she received an email from a university dean explaining that documents have been added to her case and that the decision would be provided soon. On February 28th, she received an email detailing that a hold would be placed on her degree and that she could potentially be removed from the university.
The lawsuit highlights that computer forensics indicate Meyer had "frantically toggled back and forth between the letter and the attachments and searching how to defend a disciplinary complaint."
The lawsuit accuses Standford of "negligently and recklessly" handling their daughter's case. "Stanford's after-hours disciplinary charge, and the reckless nature and manner of submission to Katie, caused Katie to suffer an acute stress reaction that impulsively led to her suicide," explained the lawsuit.
The complaint goes on to say that "Katie's suicide was completed without planning and solely in response to the shocking and deeply distressing information she received from Stanford while alone in her room without any support or resources."
Since 2019, at least nine students at the university have died by suicide. The lawsuit claims the University's prestigious reputation leads students to suffer from elevated stress levels brought on by this constant feeling of perfectionism they need to uphold.
In a statement released by the university, Stanford officials defend against the allegations made in the lawsuit, describing them as "false and misleading." The statement goes on to explain, "The Stanford community continues to grieve Katie's tragic death and we sympathize with her family for the unimaginable pain that Katie's passing has caused them. However, we strongly disagree with any assertion that the university is responsible for her death."