Thinx Pays $5M to Settle Claims Period Underwear Contains PFAS
by Christopher Hazlehurst, J.D. | Jan 30, 2023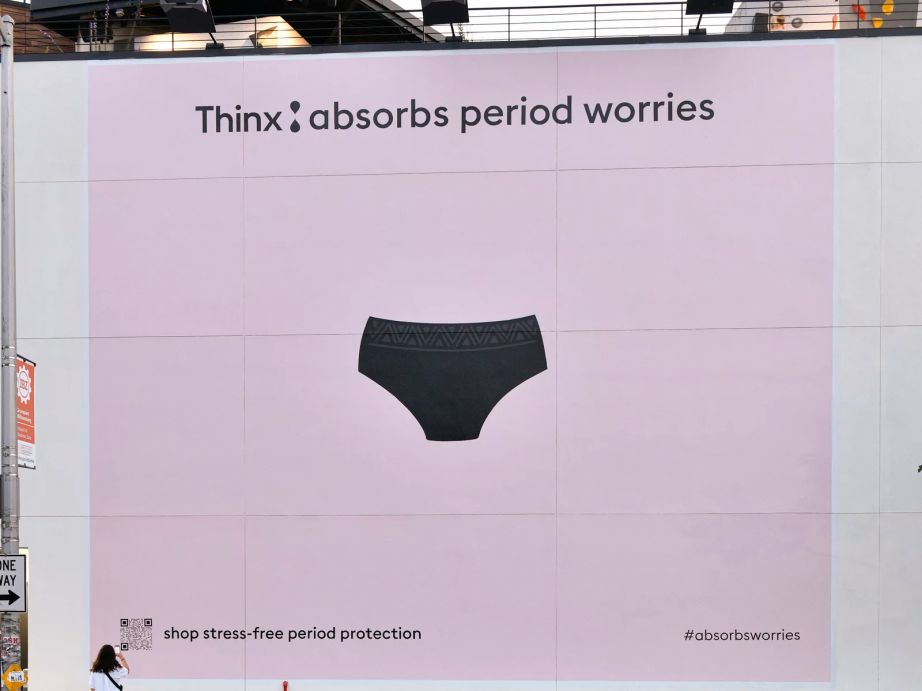 Photo Source: A Thinx billboard is pictured in New York City in September 2021. The company is accused of misleading consumers about the safety of its period underwear, but denies all allegations and admits no wrongdoing. (Eugene Gologursky/Getty Images for Thinx)
Customers who've bought period underwear manufactured by Thinx may now be entitled to a refund. The feminine hygiene product company recently agreed to pay $5 million to settle claims that its period pants contain undisclosed harmful chemicals.
Thinx markets a variety of specialized underwear, ranging from boyshorts to thongs and more, designed to act as reusable menstrual products. Known for pushing the envelope in its advertisements with suggestive visuals, the company touts its patented technology as providing a non-toxic, organic, and effective alternative to traditional menstrual products. Thinx has been heralded by TIME Magazine and others for its innovative moisture-absorbing technology. Unfortunately, a recent lawsuit serves as a reminder that "too good to be true" often proves right.
A class-action complaint filed in May last year alleges that while Thinx "led consumers to believe that Thinx Underwear is a safe, healthy and sustainable choice for women, and that it is free of harmful chemicals," the company's products actually contain "harmful chemicals, . . . which are a safety hazard to the female body and the environment." The complaint alleges that independent lab testing of Thinx underwear found per-and polyfluoroalkyl substances (PFAS) and silver nanoparticles "at material and above trace amounts."
PFAS, also known as "forever chemicals," have become a hot-button issue in recent years. PFAS are a group of man-made chemicals used to enhance the durability and resilience of a variety of consumer products. PFAS can be found in everything from food packaging and non-stick skillets to textiles, firefighting fluid, and electrical insulation.
Environmental and safety advocates alike malign the prevalence of PFAS because they do not break down over time and may pose health risks. According to the Centers for Disease Control and Prevention, animal studies suggest "PFAS may affect reproduction, thyroid function, the immune system, and injure the liver." Although the link between the typical level of PFAS exposure through consumer products and harmful effects is not conclusive, health experts advise against utilizing products with especially high levels of PFAS.
PFAS have been the subject of a number of class actions and state-led enforcement actions in recent years. Attorneys General in New York, Michigan, California, Florida, and other states have pursued claims against PFAS manufacturers like 3M and DuPont, alleging the companies are polluting the water supply with harmful "forever" chemicals. PFAS manufacturers have paid millions of dollars in class action settlements around the country based on alleged harm to consumers and residents of polluted areas.
Thinx is just the latest consumer product manufacturer to settle PFAS-related claims, although the plaintiffs in this case appear especially miffed. Thinx marketed its products as "organic," "safe," and "environmentally friendly," explicitly denying the presence of any "toxic metals," "engineered nanoparticles," or other "harmful chemicals." Meanwhile, their products contained a bounty of PFAS and harmful nanoparticles, according to the complaint.
Though Thinx agreed to settle the claims, the company denied all of the plaintiffs' allegations and refused to admit any wrongdoing. In the settlement agreement and statements to press outlets, Thinx asserted that PFAS have "never been part of our product design." The company agreed to "undertake numerous measures to ensure that PFAS are not intentionally added to the products at any stage of production."