Class Action Lawsuit Reaches $230M Settlement Following 2015 Oil Spill
by Nadia El-Yaouti | Sep 27, 2022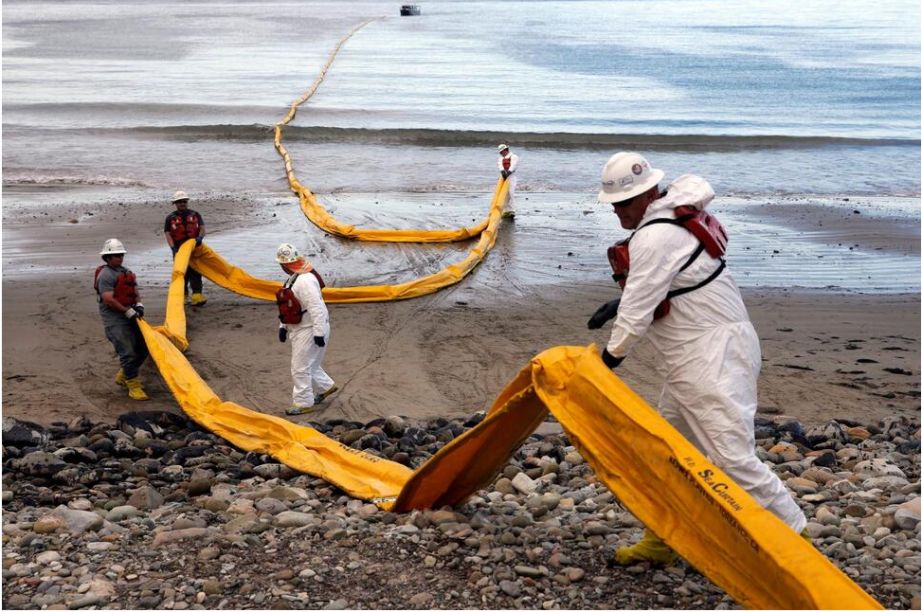 Photo Source: Workers prepare an oil containment boom at Refugio State Beach, north of Goleta, Calif., on May 21, 2015, two days after an oil pipeline ruptured, polluting beaches and killing hundreds of birds and marine mammals. The owner of an oil pipeline that spewed thousands of barrels of crude oil onto Southern California beaches in 2015 has agreed to pay $230 million to settle a class-action lawsuit by fishermen and property owners, court documents showed Friday, May 13, 2022. (AP Photo/Jae C. Hong, File)
After seven years of investigation, a Los Angeles federal judge has approved a $230 million-dollar settlement to end a class action lawsuit against All American Pipeline, L.P. and Plains Pipeline, L.P. after a May 2015 oil spill off the coast of Santa Barbara caused widespread damage.
The original lawsuit was brought forward by property owners and members of the fishing industry who were impacted by the spill. The oil spill has been recorded as one of the worst off the California Coast since 1969.
The oil spill was the result of a corroded undersea pipeline which was located just north of Refugio State Beach in Santa Barbara County. After the pipeline ruptured, it spilled an estimated 142,800 gallons of oil into the ocean. An investigation by the federal government estimated that 123,000 gallons of crude oil were spilled into the ocean; however, experts in the field determine that the true amount might be closer to 630,000 gallons.
The pipeline spill caused widespread damage, destroying miles of beaches, and killing and injuring hundreds of seabirds, seals, and other marine and nearby wildlife. The oil spill also devastated the fishing and tourism economy which the area relied on throughout the year. Homeowners who have coastal properties along the impacted area also suffered losses.
Although a settlement has been reached, the companies named in the suit did not admit liability. The companies have publicly apologized for the massive spill and the expensive clean-up that followed. In 2020 Plains did agree to a $60 million settlement with the federal government as a result of violating safety laws. Plains also agreed to bring its pipeline system which spans the nation into compliance with current safety laws.
As a result of the investigation, federal inspectors explained that Plains had made a number of preventable errors which led to the pipeline bursting. Additionally, the company did not act quickly enough to detect the spill, and it responded too slowly in its efforts to mitigate the spill. During litigation, Plains maintained that it "acted reasonably by performing in-line inspections and the required digs and repairs." The company also contested the amount of crude oil spilled, arguing that it "was a fraction of what plaintiffs' asserted."
Matthew Preusch, one of the attorneys representing the plaintiffs, welcomed the settlement, explaining, "This settlement should serve as a reminder that pollution just can't be a cost of doing business, and that corporations will be held accountable for environmental damage they cause."
As part of the settlement, Plains has agreed to pay $183 million to members of the fishing industry and $46 million to property owners.
While the judge has approved the settlement, the case still needs to through a public comments period which will be followed by court approval.