Fatal Bus Crash in Mid-Hudson Valley Underscores the Lethal Risk of Rollover Accidents
by Alan Barlow | Sep 22, 2023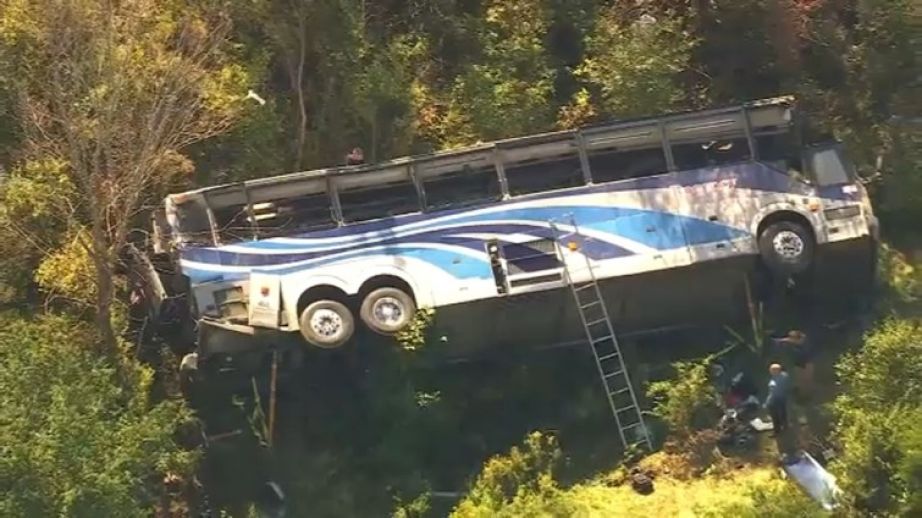 Photo Source: BNN
A charter bus accident leaves two adults dead and 40 injured, raising questions about vehicle safety and maintenance.
Mid-Hudson Valley, NY - A devastating charter bus accident occurred yesterday on Interstate 84 near Wawayanda, Orange County, claiming the lives of two adults and injuring 40 others. The bus carried students and adults from Long Island's Farmingdale School District to a weekend band camp.
The Tragic Incident
The bus plummeted down a 50-foot ravine in a horrifying rollover crash. Five students are currently listed in critical condition. The deceased have been identified as the school's band director, Gina Pellettiere, 43, and a long-time school chaperone, Beatrice Ferrari, 77.
"Rollover accidents are especially deadly, accounting for about 30% of all traffic fatalities while only occurring in three percent of all motor vehicle accidents," said Leandros A. Vrionedes, a New York personal injury attorney.
Preliminary Investigation Points to Faulty Tire
While the exact cause of the crash is still under investigation, preliminary evidence suggests a faulty front tire may be to blame. The National Transportation Safety Board (NTSB) and NY State Police are conducting a thorough investigation.
"A tire blowout can have catastrophic consequences, especially for a large vehicle like a charter bus," Vrionedes added. "It is crucial for transportation companies to regularly inspect and maintain their vehicles to prevent such tragedies."
A Widespread Issue
Recent data from the Commercial Vehicle Safety Alliance's 2023 International Roadcheck revealed that 19% of inspected vehicles had at least one out-of-service violation. Tires were the second most common violation, making up nearly 20% of all violations.
"These numbers are alarming. They indicate a systemic issue with vehicle maintenance that puts everyone on the road at risk," said Vrionedes.
A State in Mourning
New York Governor Kathy Hochul expressed her condolences, stating, "We have families, a school district, a county, and indeed an entire state that is grieving at this time."
"Our thoughts are with the victims and their families. As a personal injury law firm, we see the devastating impact of such needless accidents all too often," Vrionedes concluded.