Federal Lawsuit Alleges Tennessee Health Benefits Program Discriminates Against Transgender Individuals
by Nadia El-Yaouti | Jun 05, 2023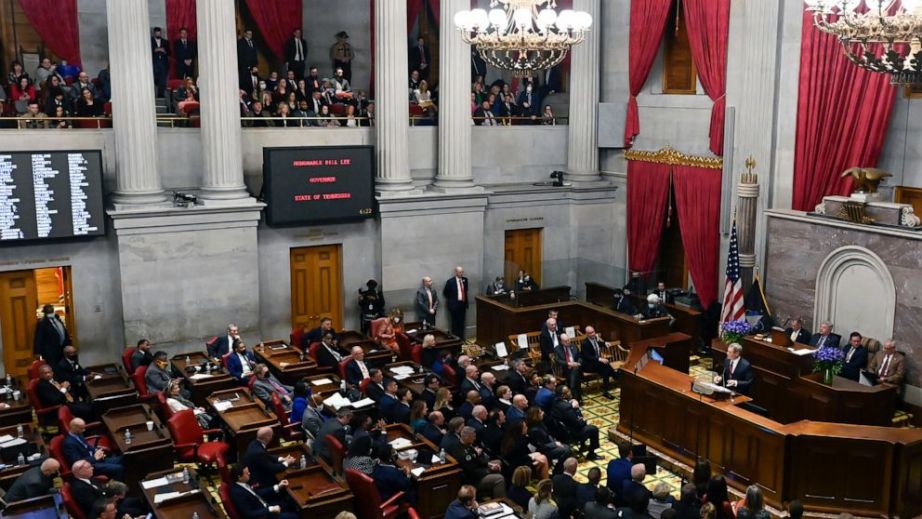 Photo Source: FILE - Tennessee Gov. Bill Lee delivers his State of the State address in the House Chamber, Jan. 31, 2022, in Nashville, Tenn. Tennessee's decision to exclude medical coverage for gender-affirming care for its public employees is unconstitutional and discriminatory, according to a federal lawsuit Tuesday, May 23, 2023, brought by two people who were denied such services while working for the state. (AP Photo/Mark Zaleski, File)
A federal lawsuit brought forward by a worker for the state of Tennessee and a former special education teacher accuses the state's health benefit program of discriminating against transgender individuals.
The lawsuit was filed by Gerda Zinner, 30, and Story VanNess, 38 on May 24, 2023. Both plaintiffs take issue with the health coverage policies that have kept them from receiving the gender-affirming care they say they need. Zinner and VanNess are represented by the Transgender Legal Defense and Education Fund (TLDEF) and Covington & Burling LLP.
Zinner, who currently works for the state as an academic advisor, and VanNess, who left her position as a public school special education teacher, alleged that they were denied gender-affirming medical care even though their medical team deemed that the services they were seeking were medically necessary.
The state's health benefits program, the State of Tennessee Comprehensive Medical and Hospitalization Program, serves nearly 290,000 state employees including teachers, state and local workers, lawmakers, and their dependents. The health benefits allow workers to access counseling and psychological treatment for gender dysphoria but do not cover the cost of treatments "for, or related to, sex transformations."
TLDEF attorney Ezra Cukor shares "The only reason the State of Tennessee refuses to provide these women with coverage for medically necessary health care is because they are transgender," adding "This is clearly unlawful discrimination that jeopardizes the health of hardworking state employees and their families."
The plaintiffs argue that the state's health benefits policy is a violation of federal law, which offers protections to transgender people from workplace discrimination on the basis of sex. The lawsuit argues that the state of Tennessee is in violation of the Equal Protection Clause of the U.S. Constitution, Title IX of the Education Amendments of 1972, and Title VII of the Civil Rights Act of 1964 because Tennessee officials are unlawfully discriminating based on sex and transgender status.
Tennessee is not the only state to see a pushback on similar healthcare benefits programs. Similar policies exist in other Republican-led states, many of which have pushed some form of anti-transgender both in the health sector and other parts of state policy. In North Carolina, state officials are seeking to overturn a trial court's ruling that orders the state's health plan to pay for "medically necessary services," including hormone therapy treatments and certain surgeries for both transgender employees and their dependents. The ruling came after a similar 2019 lawsuit that denied gender-affirming care to state employees.
Similarly, a former county employee in Montana was awarded $66,500 in damages after an administrative judge found that the state's denial of gender-affirming care amounted to illegal sexual discrimination.
Over the past year, Tennessee has been a fixture in the fight for repealing transgender rights in all aspects of society. In March, the state made national headlines and encountered stout public pushback after it introduced an anti-drag bill that would limit where drag shows could be performed. Early this week, a Trump-appointed federal judge ruled that the state's anti-drag bill was unconstitutionally vague. Tennessee lawmakers have vowed to push back against the decision.
The state's efforts to limit health services related to gender-affirming care are not new. Earlier this year, state lawmakers worked to introduce legislation that would prohibit contracts with private companies that offered managed care for the state's medical program if these private companies offered medical care related to gender transition. The bill did not move forward in this year's session.