Florida Gov DeSantis Mandates Law Enforcement to Work with ICE
by Haley Larkin | Jun 22, 2022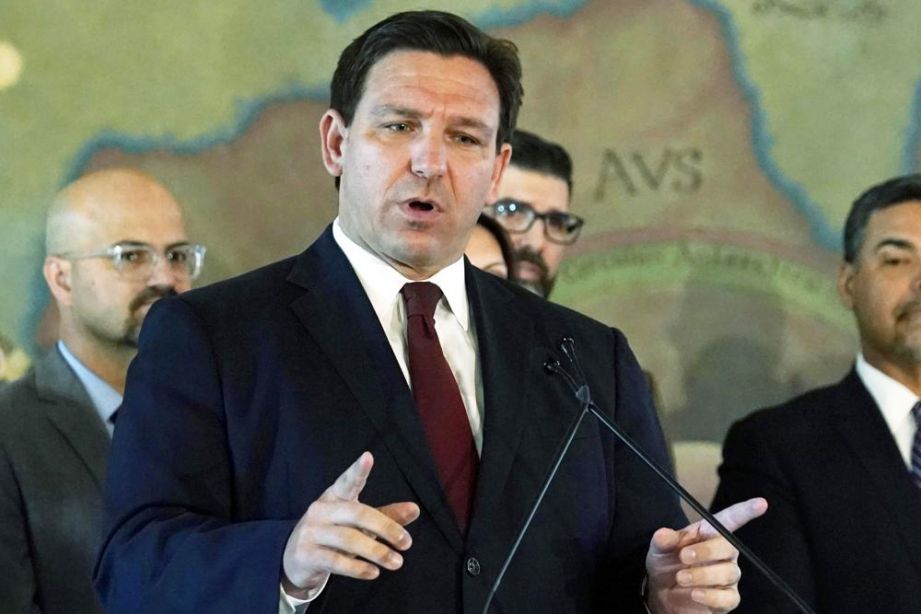 Photo Source: Florida Gov. Ron DeSantis speaks at Miami's Freedom Tower, file photo, May 9, 2022. (AP Photo/Marta Lavandier, File)
On Friday, Florida Governor Ron DeSantis signed into law Senate Bill 1808 to further crackdown on illegal immigration in the state. The new law mandates law enforcement agencies that oversee detention facilities to work with Immigration and Customs Enforcement (ICE).
At the Escambia County Sheriff's Office during an event named "Biden's Border Crisis," DeSantis stated that "What [Florida has] seen in the year and a half during [the Biden] Administration is over three million people illegally cross the U.S.-Mexico border" by individuals from all over the world. DeSantis is calling this move a way for Florida to not pass the buck entirely to Texas and Arizona on curtailing illegal immigration.
Under SB 1808, law enforcement agencies must "enter into a written agreement with [ICE] to participate in the 287(g) program" and grant certain law enforcement officers immigration enforcement authority. Before this law, law enforcement agencies had the choice to enter into an agreement with ICE under this program.
The 287(g) program, according to the U.S. Citizenship and Immigration Services, is a program that "enhances the safety and security of communities" because it "creates partnerships with state and local law enforcement agencies to identify and remove non-citizens." It was added to the Immigration and Nationality Act in 1996 under the Illegal Immigration Reform and Immigrant Responsibility Act.
The Director of ICE can enter into agreements with state and local law enforcement agencies that delegate some immigration enforcement authority to officers within those agencies. Florida currently has 49 counties that have entered the 287 (g) Program, the highest number across the country, with Texas coming in second with 26 agreements.
Each law enforcement agency must enter into a written agreement with ICE under the 287(g) by January 1, 2023. Beginning in October, each law enforcement agency that has yet to agree must notify the Department of Law Enforcement each quarter on the status of the agreement processing.
The bill now requires county detention facilities to report the immigration status of each of their inmates. Additionally, under SB1808, the state government is now able to contract with a carrier company to transport undocumented individuals in the state for any transportation need other than deportation.
As a possible contender for the 2024 Presidential election, immigration has become one of DeSantis' biggest policy priorities. He had already outlawed "sanctuary cities" throughout the state in 2019. Sanctuary jurisdictions are cities, counties, and/or states that have enacted laws that protect undocumented individuals in the United States from ICE. One of the most common ways these jurisdictions will shield these individuals is through refusing or prohibiting compliance with ICE detainers - a technique and tool used to gain custody and control over criminal aliens who can be deported.
DeSantis is also preparing for the removal of the Title 42 restrictions enacted under the Trump administration at the height of the COVID-19 pandemic. The United States guarantees the right of individuals to seek asylum at any land border. On March 20, 2020, that guarantee was reversed, forcing individuals to be turned away and "expelled" to Mexico or their home countries.
This change was justified under section 265 of Title 42, a U.S. health law, claiming the health and safety of the United States was at risk, and that the COVID-19 Pandemic justified the enactment of this provision. However, research has found that Title 42 has increased apprehensions; nearly half of the individuals expelled back to Mexico have tried to cross the border a second or third time.
The Centers for Disease Control and Prevention (CDC) opined in April 2022 that Title 42 was no longer necessary for public health purposes. Title 42 was on course to be terminated in May 2022 when a federal judge in Louisiana blocked the move.