The Future of Telehealth After Covid
by Christopher Hazlehurst, J.D. | Sep 28, 2021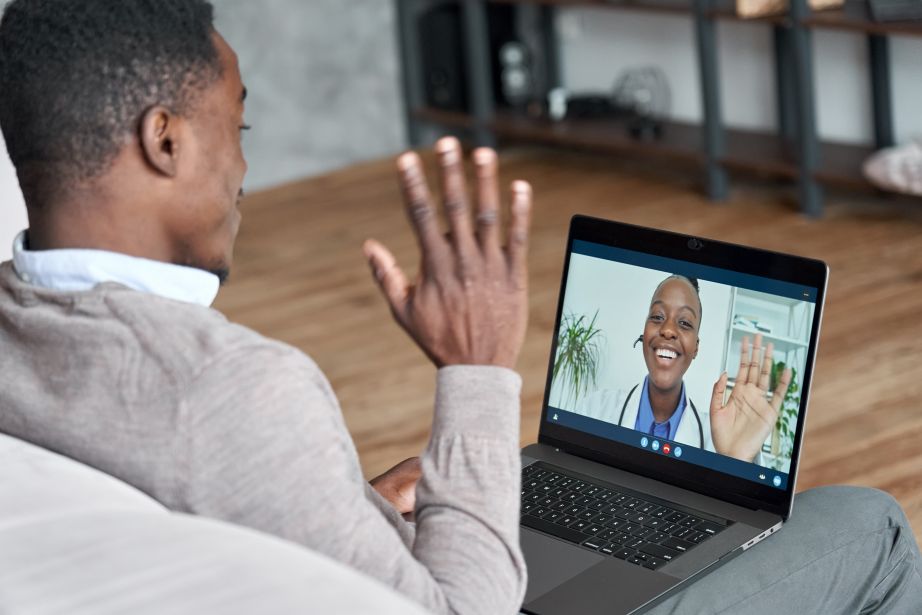 Photo Source: Adobe Stock Image
Telehealth Has Boomed During the Pandemic
The use of telemedicine has expanded exponentially since the beginning of the COVID-19 pandemic. According to data from the U.S. Centers for Medicare and Medicaid Services (CMS), around 15,000 Medicare patients received telemedicine care on a weekly basis before the declaration of the public health emergency. By April 2020, that number had skyrocketed to close to 1.7 million Medicare patients every week. Between March and October 2020, nearly 40% of all Medicare patients (some 24.5 million patients) had received services via telemedicine.
A report from the Department of Health and Human Services (HHS) about the expansion of telemedicine found not only that telehealth was a rapidly-growing venue for transmitting medical services, but also that "Medicare's new telehealth flexibilities played a critical role in helping to maintain access to primary health care services - when many beneficiaries and providers were concerned with transmission of COVID-19." A number of peer-reviewed studies have found that telemedicine is just as effective, if not more effective in certain settings, as the provision of medical services in a traditional in-person setting.
Agencies and Medical Orgs Have Enacted Changes to Promote Telehealth During the Pandemic
Many states, medical boards, and federal agencies have adopted new policies concerning telehealth in response to the COVID-19 pandemic. Recognizing the dangers of and limitations on access to medical services felt by much of the population as a result of the COVID-19 pandemic, restrictions aimed at slowing the expansion of telemedicine were lifted. Many of these changes are temporary as drafted, meant to apply while the state or national emergencies continue and expire as the COVID-19 pandemic wanes.
Some of the changes that have been enacted to promote and encourage the use of telemedicine during the pandemic include:
Lifting locational restrictions on telehealth
Lifting requirements of an in-person consultation before switching to telemedicine
Expanding the list of Medicare-covered services and state Medicaid-covered services
Requiring parity of payments for telemedicine services in line with payments for the same services rendered in person
Easing in-state licensure requirements, or allowing for expedited in-state licensing, to promote cross-state telemedicine
Permitting direct supervision via telemedicine
Permitting prescription of controlled substances to be issued via telemedicine
Establishment of the physician-client relationship via telemedicine and the patient's home as an originating site
HIPAA flexibility for telemedicine services
Expanding the types of professionals who can utilize telemedicine technology
Will These Changes Stick?
There is reason to be optimistic that at least some of the legal and administrative changes made in favor of telemedicine will continue or be enacted on a more permanent basis even after the conclusion of the national emergency. Many medical associations and other members of the medical community around the country have come to recognize the benefits of telehealth and are lobbying for greater access to telehealth services. According to Dr. Edward Kaftarian, CEO of telepsychiatry provider Orbit Health and telehealth training provider Orbit University, many public and private organizations such as the American Psychiatric Association, American Psychological Association, American Telemedicine Association, American Academy of Pediatrics and the American Medical Association are in favor of a responsible expansion of Telehealth.
Many public and private organizations are in favor or a responsible expansion of telehealth.

— Dr. Edward Kaftarian, CEO of Orbit Health
In California, Governor Newsom lifted most of the COVID-19 restrictions in June that had been in place but chose to keep the required telehealth payment parity so long as the state or federal state of emergency remains in effect. California has already enacted a law, effective January 1, 2021, requiring new or renewed payer contracts to reimburse physicians for telehealth services on the same basis and to the same extent that the payor reimburses in-person provision of the same services. The California Medical Association is strongly in favor of expanding telehealth access on a more permanent basis and has advocated for a bill that would expand telehealth payment parity to all payor contracts (regardless of when-issued or renewed), explicitly include audio-only telemedicine, and apply more broadly to different payor groups.
Changes are happening on a national level as well, although not as rapidly as some telehealth advocates might like. CMS temporarily added 144 telehealth services in its 2021 payment rule, but many of those services are scheduled to be removed at the conclusion of the national emergency. CMS did choose to permanently add a number of telehealth services to its payment schedules, however, including psychotherapy services. Many private payers have extended telehealth reimbursement policies in accordance with Medicare's changes.
Doctor Kaftarian notes that a number of changes need to be made permanent to ensure that telemedicine can continue to expand nationwide. "In a perfect world," he says, "the DEA [Drug Enforcement Administration] would not restrict the telemedicine restraints around controlled substances. Currently, the Ryan Haight Act has very narrow Telehealth exceptions to the restrictions." Speaking for the telehealth community, Dr. Kaftarian hopes that the DEA complies with the congressional mandate to provide a telehealth special registration process. "So far the DEA has not complied with this mandate," he says, "leaving the nation in limbo."
Telehealth parity is another important factor in the expansion of telemedicine, according to Dr. Kaftarian. He explains that insurance companies and CMS are increasingly allowing payment parity for telehealth services. "Over the past few years, more telehealth service codes have been added," says Dr. Kaftarian. "This has allowed providers from a greater variety of disciplines and specialties to participate in telehealth."
The best solution would be to have a national medical license which would allow providers to treat patients in all 50 states. At a minimum, all states ought to allow reciprocity of medical licensure through the Interstate Medical Licensure Compact.

— Dr. Edward Kaftarian, CEO of Orbit Health
Government regulations can also sometimes get in the way of providing individualized patient care when they mandate a one-size-fits-all approach that doesn't always apply. Consider, for instance, the difference between mandating audiovisual telemedicine versus audio-only. As with most clinical matters, notes Dr. Kaftarian, the right approach depends on the circumstances. "Video is often very helpful as you are able to see facial expressions which can convey nonverbal information. However, there are fewer technical barriers to providing care via telephone, especially when patients do not have access to a computer, smartphone, or the internet."
Another area of concern to governments is the ability of clinicians to prescribe controlled substances via telemedicine. Some states require at least one in-person visit before a doctor can prescribe medication, but this regulation can get in the way of providing optimal care. Doctor Kaftarian shares that excessive regulations such as in-person visit requirements can unintentionally interfere with access to care for underserved populations. "Oftentimes these regulations are not based on clinical evidence," he notes. Doctor Kaftarian continues, "Clinical circumstances from patient to patient can be highly variable. In some cases, a telehealth visit may not be sufficient to address the needs of a patient. However, this should be judged on a case-by-case basis by licensed healthcare professionals."
On the licensure front, many states have adopted the Interstate Medical Licensure Compact, which offers a voluntary, expedited pathway to licensure for qualified physicians. The greatest utility in telehealth lies in allowing physicians in one location to treat patients in a far-off, remote location, particularly where those patients would otherwise lack access. Expanding telehealth access across state lines can further help to alleviate the lack of access to medical services felt by many communities across the country. Instead of requiring physicians in one state to go through a lengthy and expensive process to obtain a license within another state before commencing telehealth services in that state, members of the Interstate Medical Licensure Compact allow licensed physicians to go through a simple process to obtain a license in their state.
Doctor Kaftarian sees this issue as perhaps the biggest barrier of all to the expansion of telemedicine. "The best solution," he says, "would be to have a national medical license which would allow providers to treat patients in all 50 states. At a minimum, all states ought to allow reciprocity of medical licensure through the Interstate Medical Licensure Compact."
As of now, the Compact includes 29 states, the District of Columbia and the Territory of Guam. The rapid expansion of the Compact gives hope to telehealth advocates that the full potential of telemedicine is finally being recognized.