Will California Governor Support Unemployment Benefits for Strikers?
by Maureen Rubin | Sep 19, 2023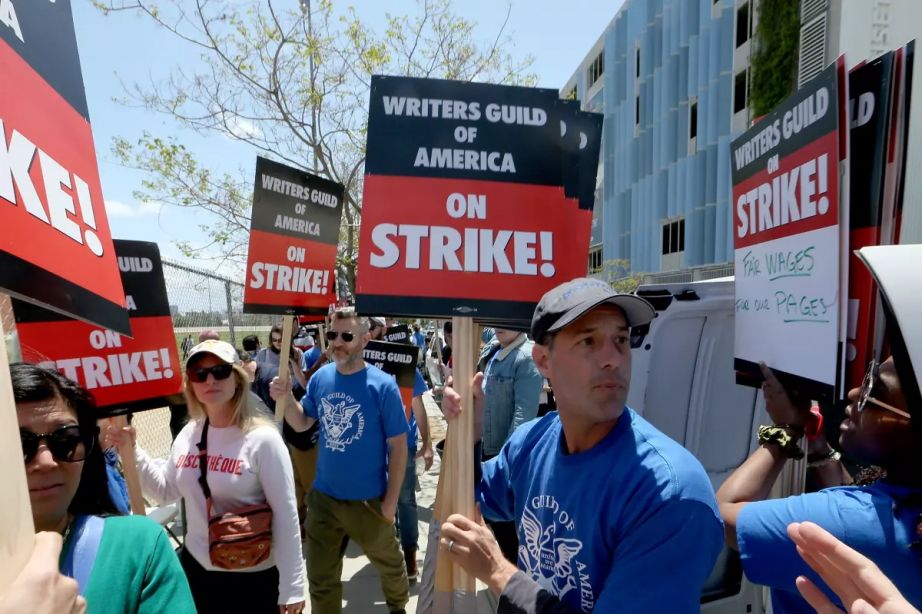 Photo Source: Luis Sinco/LA Times
Striking workers are making headlines across America. As union members from the country's Big Three automakers hit the picket lines, contentious negotiations between striking writers and actors and the Hollywood studios have been going on in California for over 100 days. In support of the workers, the State's legislators passed a bill that would allow strikers to collect unemployment benefits. But will Governor Newsom sign it or veto it?
Newsom's signature would provide striking workers with the type of compensation that is only currently available in two U.S. states -- New York and New Jersey. But his support is questionable. Last week, at an event sponsored by Politico, he "expressed concerns" about the bill, saying he has been "consistently meeting with both sides" and that he and Los Angeles Mayor Karen Bass are "trying to do our best to understand the issues." He also said he hasn't "read all these bills and they're just literally landing in real time." If signed, the bill would go into effect on January 1, 2024.
He also told Politico's California Bureau Chief Chris Cadelago that California's Unemployment Insurance (UI) fund is in debt to the tune of $18.2 million at a time of "historically low unemployment and… rising wages." This is unusual, since states usually do not run out of money during times of record job growth. As a result, he said, "I think one has to be cautious about that before you enter in a conversation about expanding its utilization." He concluded tersely, "That's all I'll say on it. " When Cadelago said, "Sounds like a veto message," Newsom replied, "I don't know. "
Senate Bill 799 (SB 799), passed the State Senate on September 14 by a vote of 27-12 and the Assembly on September 11 by a vote of 59-18. It amends and renames the State's Unemployment Insurance Code that currently makes employees "ineligible for benefits if the employee left work because of a trade dispute" and keeps them ineligible "for the duration" of the dispute. The new bill "restores eligibility after the first 2 weeks for an employee who left work because of a trade dispute."
Currently, unemployment pay in California is $450 per week and can be received for a maximum of 26 weeks. In order to qualify, additional requirements, including trying to find work, must be met.
SB 799 was sponsored by Anthony J. Portantino (D-Burbank) and co-authored by Senator Elena Durazo (D-Los Angeles) and Assemblymember Chris Holden (D-San Gabriel Valley). A press release from Portantino's office said, "Today, the Legislature responded to this rare moment in time when workers from many different business segments are striking for their future livelihood…Sacramento's action sends a strong message to the women and men on strike that we recognize the impact that strikes have on a family's ability to pay rent and put food on the table."
As to be expected, many lawmakers opposed or had concerns about the bill. Assemblymember Bill Essayli (R-Corona) said the bill was "fundamentally unfair to businesses since the state would in essence be taking the side of striking union members during a labor dispute." His colleague Lori D. Wilson (D-Suisun City) supported the bill but was worried about the UI's current debt and the scope of eligibility for benefits under the new legislation.
The Bill was applauded by the Writers Guild of America and SAG-AFTRA, who had been advocating for its passage during legislative committee hearings. Although these unions have strike funds to help their striking workers, union leaders say their funds are not adequate to help members during lengthy strikes.
On the other side, the California Chamber of Commerce said that extending UI "would be akin to a tax increase for employers," since they are the ones who would pay for the benefit when they submit their payroll taxes. More than 130 business organizations also oppose the bill, arguing that unemployment insurance is "designed for workers who lose their jobs, not those who are withholding their labor as a bargaining strategy."
The Los Angeles Times notes that the tax dollars referred to by the Chamber of Commerce "haven't been enough to fund unemployment benefits" and caused the State to borrow $20 million from the federal government in 2020. They also noted that it was hard to predict the effect of SB 799 because the cost would depend on many factors, including the number of striking workers and the length of the strike. But the Assembly Appropriations Committee said it is "likely in the low million to tens of millions of dollars."
While the nation's movie and television viewers will not have as much new entertainment to watch this fall, they can certainly stay tuned to breaking developments on the current strike.