Proposed Class Action Claims Fireball Cinnamon Doesn't Actually Contain Whiskey
by Christopher Hazlehurst, J.D. | Feb 13, 2023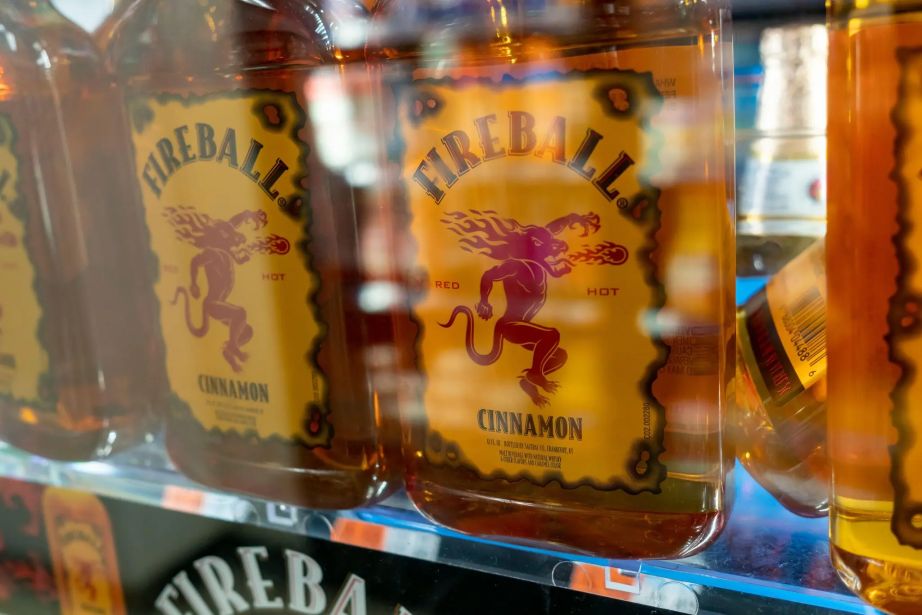 Photo Source: Bottles of Fireball Cinnamon, the malt beverage, at a convenience store in New York. (Richard Levine / Alamy)
To the dismay of aging frat bros and raver chicks nationwide, the makers of Fireball whiskey may have been lying to us all this time. Consumers filed a lawsuit against Sazerac Company, Inc., claiming that mini bottles of the company's Fireball Cinnamon don't actually contain any whiskey.
Sazerac sells Fireball Cinnamon Whisky in full-size bottles via stores with a liquor license along with 3.4 oz. mini bottles of the same. Over the last few years, the company began selling Fireball Cinnamon in mini bottles at supermarkets, convenience stores, and gas stations for 99 cents a pop. Although Fireball Cinnamon bottles look nearly identical to Fireball Cinnamon Whisky bottles, there's a key difference between the products: Fireball Cinnamon Whisky contains whiskey. Fireball Cinnamon does not.
Fireball Cinnamon is actually a "malt beverage" that is "flavored to taste like its cinnamon whisky." Fireball's whisky version has 33% alcohol by volume (ABV), while Fireball Cinnamon contains only 16.5% ABV. Anna Marquez, the plaintiff in Marquez v. Sazerac Co., alleges that Fireball Cinnamon is misleadingly similar to the company's product that contains real liquor.
According to the complaint, the "bottles appear identical but for the word 'Whisky' on the front label, which most purchasers seeking alcohol will not even detect." The malt bottles even use the words "With Natural Whisky & Other Flavors," which the plaintiff alleges is meant to confuse customers into believing the product contains natural whisky "and other flavors," as opposed to "whisky flavor" and "other flavors." The text explaining that it is a "malt beverage" and identifying the ABV is also in the "smallest allowed size," further facilitating customer confusion.
Marquez alleges that she and her proposed class were deceived into purchasing Fireball Cinnamon, believing that they were getting a distilled spirit rather than a malt-based beverage. Had she and other similarly-situated customers known that they were picking up a malt beverage, they would have paid less or passed over the product entirely.
Marquez alleges violations of the Illinois Consumer Fraud and Deceptive Business Practices Act and other state consumer fraud acts as well as breach of warranty, fraud, negligent misrepresentation, and unjust enrichment. She seeks to represent Illinois and nationwide classes of Fireball purchasers, aiming to obtain an injunction against future false advertising and damages in excess of $5 million.
For its part, Fireball's website discusses the difference between Fireball Cinnamon and its whisky products. The FAQs explain that "Fireball Cinnamon products include malt-based and wine-based alcoholic beverages, whereas Fireball Whisky is whisky-based." The benefit of the Fireball Cinnamon products is that they "can be sold in beer, malt beverage and wine stores," while Fireball's whisky products can only be sold in stores with a proper liquor license.
An explanation on the product's website may or may not save the company against allegations of false advertising. If the products are misleading as labeled and sold, consumers can rightly complain—consumer protection laws do not expect customers to do extensive research on a product beyond the advertisements presented at the point of purchase. The case will turn on whether consumers were reasonably misled by the labels and other Fireball ads.